Riley & I were invited to stay in Michigan. Final push for this historic Election Integrity Initiative is now (photo ID to vote, last 4 of social security # to vote, no more ballot harvesting). Turn-in of voter signatures / petitions is this Wed, June 1 to Michigan's Secretary of State. Super exciting. 
On Wednesday, when we turn in the signatures of 400,000+ Michigan voters and qualify this historic Election Integrity Initiative for the ballot, it'll be because of this guy who took on the Herculean task of leading the signature drive in these final weeks: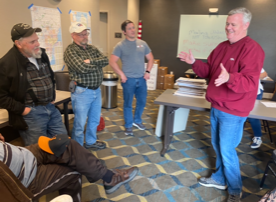 Paul Jacob is a long-long initiative activist, a role model and hero to me. Here's a picture of him giving a pep talk to a few of our Washington warriors who trekked to Michigan last week.
Mon, May 30, 2022
Paul posted this picture which I think really captures the heart and spirit of Memorial Day:
We wouldn't have the freedoms we enjoy if not for the heroes who served our country.
Last week, we had a great team of people uproot themselves and leave their families and their work, and their lives to spend a week in Michigan for the first wave of petitioning:
A few were invited to stay 'til the end — here's Ethan Nuff who is doing an absolutely awesome job in these final days getting signatures:
And here's Paul Bennett who took it to a whole nutha level offering Michigan voters the chance to sign up:
When my 14-year-old daughter Riley was invited to join me in Michigan, she was "in" because she knows we make a killer Dad-Daughter-Duo when it comes to teaming up for political events.
And she got a tad more excited when she learned she'd actually be able to earn some money helping out with the signature drive:
(I, on the other hand, am not allowed to earn any money helping because of that insane court order — one of the many reasons I'm appealing it).
But what really got her completely on board was when she said to me: "So I assume I've gotta dress nice while I'm there."
"No, Riley, you can wear anything you want — the catchier the better." 
Well, let's just say she's developed a pretty colorful style of her own:
Would you sign a petition if asked by someone dressed like that?
Or like this?
No one says this stuff can't be fun.
Anyway, with a ton of Memorial Day parades and events, Paul is counting on his teams of petitioners across Michigan to really kick butt collecting signatures. He said it's totally coming down to the wire and really needs this last final push before Wednesday's turn-in.
The people of Michigan and the citizens all across our nation are fortunate to have leaders like Paul who are willing to pull out all the stops to make sure this historic effort is a success.
I'm proud to be part of a great team of people who are working in 7 key swing states on 7 Election Integrity Initiatives — here's us in Georgia: 
We want to make sure in future elections — especially 2024 — that valid votes count and invalid votes don't.
Is it any wonder Bob Ferguson wants to prohibit all my future political activity?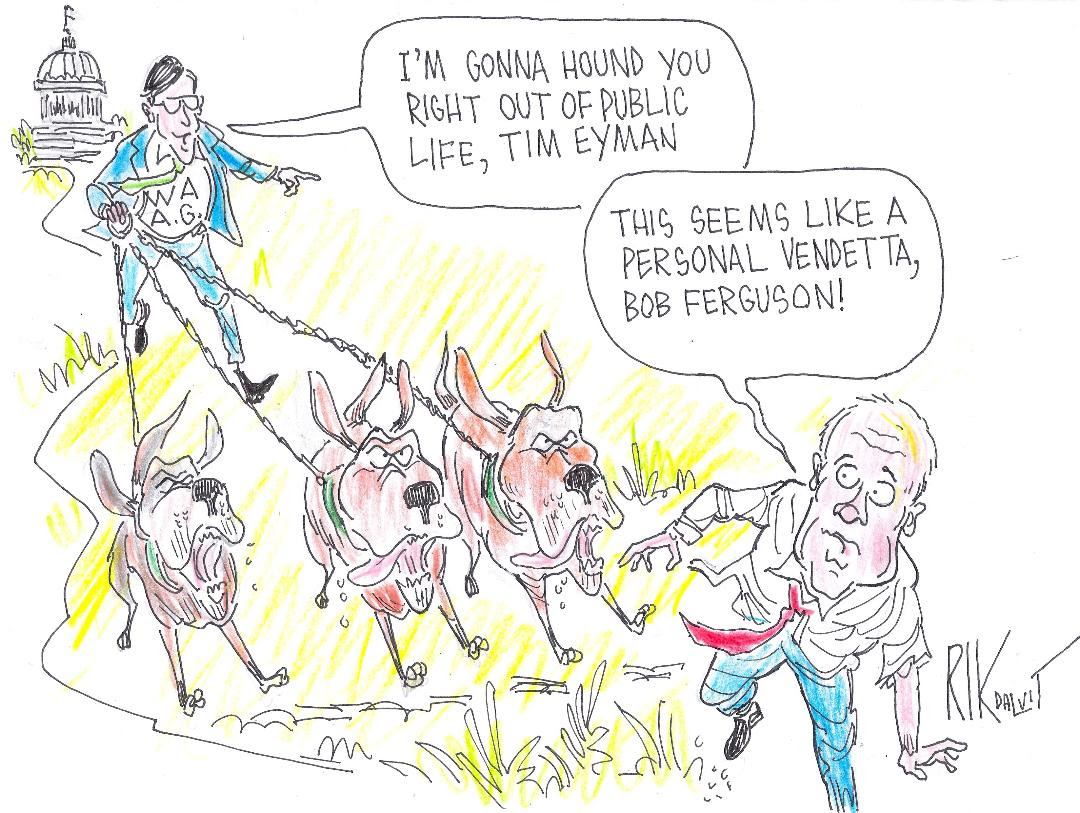 Please donate to my legal defense fund today:
Mail-in donation: Tim Eyman Legal Defense Fund, 500 106th Ave NE #709, Bellevue, WA, 98004
Or donate online:
By PayPal
By Credit/Debit

Appealing the AG's ridiculously unconstitutional restrictions on the First Amendment is absolutely critical. Because if he gets away with it with me, he'll just target someone else.
And I refuse to let that happen.
I'm only here is because of the love and support of folks like you who've watched this gross abuse of power by the AG and are willing to help me and my family get through this.
I love you all.
And now a message from Larry Jensen & Sid Maietto:
We're asking folks to donate to our PAC so we can keep fighting for taxpayers with attorney Joel Ard's initiative: STOP ALL INCOME TAXES. 
The taxpayers of Washington need our help now more than ever. Donate to our political committee so we can keep fighting for you:
Mail your check — made payable to "Permanent Offense I-1499" — to: Permanent Offense, PO Box 6151, Olympia, WA, 98507
Or donate online: PermanentOffense.com
Kindest Regards, 
Sid Maietto & Larry Jensen
— END —
Thanks everyone.
Larry, Tim, & Sid
P.S. Please — I urge you to donate to my legal defense fund today:
Mail-in donation: Tim Eyman Legal Defense Fund, 500 106th Ave NE #709, Bellevue, WA, 98004
Or donate online:
By PayPal
By Credit/Debit