JOIN ME IN OLYMPIA TODAY @ 3PM, I'm filing a lawsuit against the Guvna (Eyman v Inslee) to stop his costly Low Carbon Fuel Standard and destructive Cap & Tax Scheme.
And guess who will be defending Inslee's unconstitutional actions? Fascist Fergie. So it's also Eyman v Ferguson.
Mon, Nov 15th, 2021
LAST MINUTE INVITATION: Join me today @ 3pm in Olympia as I file my lawsuit against Jay Inslee to stop his costly Low Carbon Fuel Standard and his destructive Cap & Tax Scheme.
I testified against both of them during this year's legislative session (with one of them, I testified from a hospital):
I'm filing my lawsuit today (Mon) at 3pm in the Thurston County Clerk's office (2000 Lakeridge Dr SW, Building 2, Olympia). We'll have a short rally (2:45pm-3pm) beforehand in the hallway outside their offices. 
You can read the Complaint for Declaratory Judgment by clicking on this image:
If that doesn't work, click here or click on this:
I hope you can join me today in Olympia (but I understand if you can't because I'm very aware that our supporters work for a living – unlike the pushers of these wacko schemes).
A lot of people have talked about Inslee's unconstitutional actions.
But as my good friend and ally Mike Dunmire famously said:
"Everybody talks," Dunmire said, "Eyman is the only one out there who actually gets things done. He's all about action and getting in the trenches to fight for real solutions."
Today's lawsuit is just another example of that.
Inslee is on a total power trip and his unconstitutional actions during this year's legislative session need to be challenged and overturned.
I'm not an attorney so my hourly rate is very reasonable: $0.
I just need to pay the filing fee (even though Ferguson's lawsuit has drained me dry) and copy and paste the legal briefs that led to last week's state supreme court ruling against Inslee (actually, I included how detrimental the LCFS and Cap & Tax Schemes will be in the Complaint as well as explaining why the AG can't be trusted).
So on one level, this is going to be easy.
But on another level, this is going to be really hard because although I can only represent myself in court (since I'm not an attorney), I feel I'm representing and fighting for every taxpayer and every company trying to do business in Washington state.
So this is an awesome responsibility and I'll do my best to fight against Inslee and Ferguson to stop these hurtful, destructive, anti-competitive policies from hurting taxpayers and our state's competitiveness.
I've gotten in Inslee's face before (when he blocked our $30 Tabs):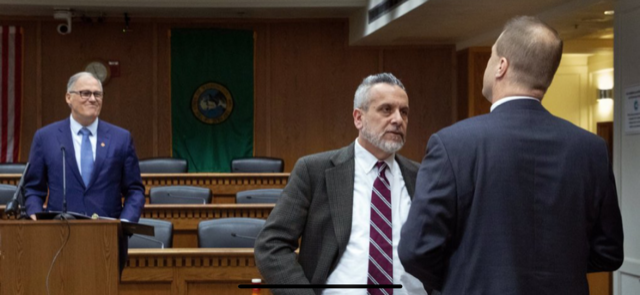 And I've challenged the AG before (when he sabotaged our $30 Tabs):
So I've been here before.
And this time, I'm challenging Inslee for unconstitutional actions he's already been found guilty of before.
But the court system is screwy and lawyers hate (and I mean hate) non-attorneys getting in their arena.
Even so, I'm optimistic because this time I'm just copying the same briefs that just won in the state supreme court last week.
And here's another reason I and all of you should be optimistic about this: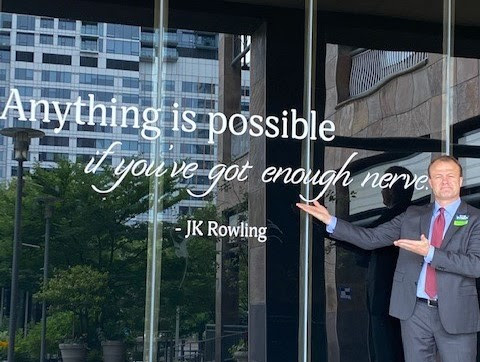 You can't win a fight unless you're willing to fight.
And I'm willing to keep fighting if for no other reason than to show Fascist Fergie that his efforts to stop me from being a political activist have only inspired me to work even harder for the people of the state of Washington.
All he's done is pour gasoline on the fire:
And while I'm working on Eyman v Inslee (which is also Eyman v Ferguson), we're also moving full steam ahead on Jim Walsh's anti-income-tax initiative (I-1408) here and 7 Election Integrity Initiatives in 7 key swing states.
Right now, I'm only urging you — while I'm fighting to help our state and our nation with my initiative efforts and my lawsuit — to help me fight back against Fascist Fergie by donating to my legal defense fund.
Please donate TODAY so I can to appeal Fascist Fergie's ridiculously unconstitutional restrictions on the First Amendment:
Mail your check to: Tim Eyman Legal Defense Fund, 500 106th Ave NE #709, Bellevue, WA, 98004
Or donate online: TimDefense.com
Don't let the guy who's profited more from politics than anyone get away with this:
As you know, we worked really hard on Initiative 976:
Karen and I sacrificed a lot — we sold off our retirement fund to kick-start its signature drive:

And now, a message from Sid Maietto and Larry Jensen:
We're asking folks to donate to our PAC so we can stop all current and future income-based taxes with Jim Walsh's Initiative 1408: 
The taxpayers of Washington need our help now more than ever. Donate to our political committee so we can keep fighting for you:
Mail your check — made payable to "Permanent Offense (I-1408)" — to: Permanent Offense (I-1408), PO Box 6151, Olympia, WA, 98507
Or donate online: PermanentOffense.com
Kindest Regards, 
Sid Maietto & Larry Jensen
— END —
Thanks everyone.
We love you all.
Larry, Tim, & Sid