One of the things I said at Saturday's huge rally in Olympia:
"There's a saying: Find what you love to do and you'll never work a day in your life. For 22 years, I've had the time of my life."
That look of pure joy in that picture shows you this is what I was meant to do. Thank you for helping me continue our fight for taxpayers.
You can watch the whole speech here (click on image):
If that doesn't work, try clicking here.
One of the things I said in my speech on Saturday was this:
"There's a saying: Find what you love to do and you'll never work a day in your life. For 22 years, I've had the time of my life."
It is so true.
Every single day of my life as a political activity has been one of pure joy.
The ups and downs, the highs and lows, the victories and near victories.
All of it.
It's a challenge, a monstrous challenge to bring about change in our political system.
There's so much inertia, so much corruption.
It would be so easy just to walk away from it.
But I don't have a choice.
This is what I was born to do.
For 9 years, I've been in the fight of my life with Bob Ferguson.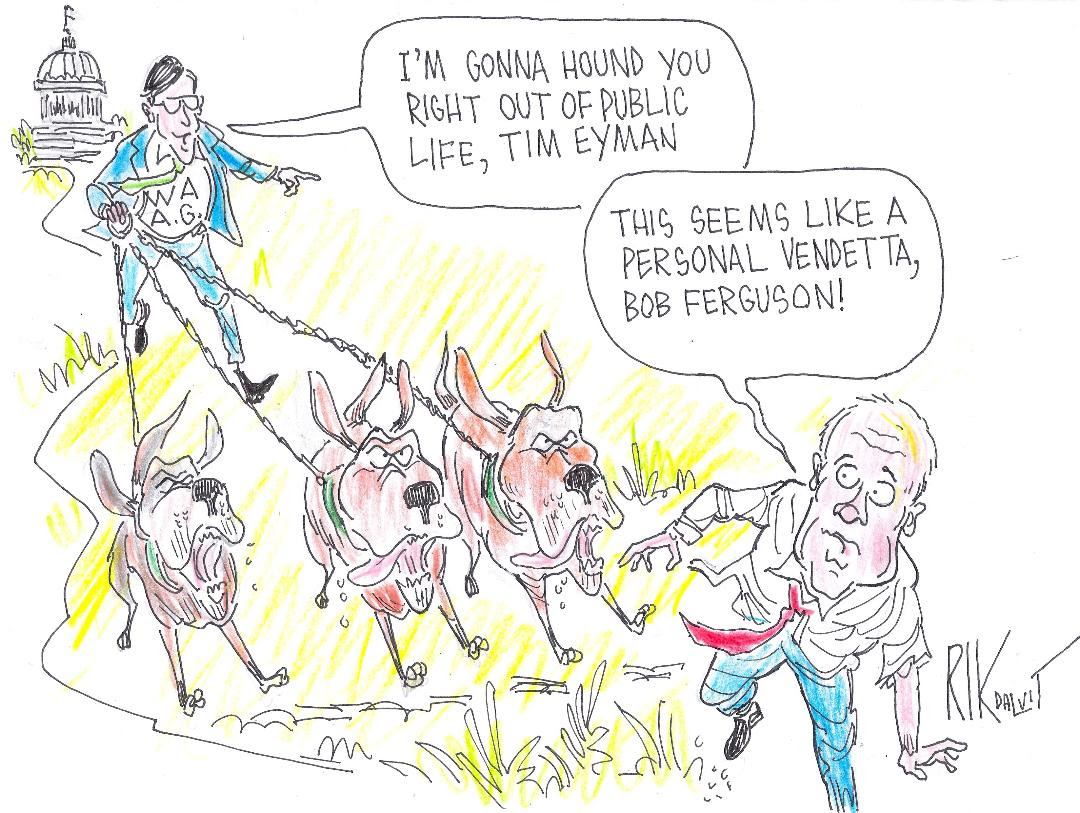 9 years of investigation, litigation, and persecution of me, my family, and my supporters.
In all that time, all he's wanted is a lifetime ban on all my future political activity.
At any time during those 9 years, I could have given him what he wanted: me giving up my First Amendment rights.
I could have then picked another profession in Washington or moved to another state to start my life over.
Why didn't I?
Because if he gets away with it with me, he'll just target someone else. And I'm not gonna let that happen.
Besides that, I'm way too Irish to walk away from a fight.
There's too much Yakima in me.
Too much WAZZU in me.
I'm too white trash to just walk away from this fight.
In the movie 300, Spartan leader Leonidas is offered a deal by King Xerxes.
"Your rivals will kneel at your feet if you but kneel at mine."
Leonidas' response:
"It's an offer only a madman would refuse. But the idea of kneeling … kneeling will be hard for me."
I think every person at Saturday's rally feels exactly the same way.
I'm doing everything I can in our state and our nation to restore our freedoms and liberties.
In addition to my lawsuit challenging Inslee's abuse of power, I'm working really hard sponsoring and promoting initiatives in Washington state:
And I'm working with our team on 7 Election Integrity Initiatives in 7 key swing states to ensure that valid votes count and invalid votes don't:
I want to give you VALUE for the help you're providing to my legal defense fund.
I am appealing these ridiculously unconstitutional restrictions on the First Amendment to make sure what the AG is doing to me never happens to anyone else ever again.
Please donate to my legal defense fund here:
Mail-in donation: Tim Eyman Legal Defense Fund, 500 106th Ave NE #709, Bellevue, WA, 98004
Or donate online:
By PayPal
By Credit/Debit
In addition, we worked really hard on our $30 Tabs Initiative:
Karen and I sacrificed a lot — we sold off our retirement fund to kickstart its signature drive: 

And now a message from Larry Jensen & Sid Maietto:
We're asking folks to donate to our PAC so we can keep fighting for taxpayers with initiatives sponsored by the three of us (Tim, Sid, & Larry).
The taxpayers of Washington need our help now more than ever. Donate to our political committee so we can keep fighting for you:
Mail your check — made payable to "Permanent Offense" — to: Permanent Offense, PO Box 6151, Olympia, WA, 98507
Or donate online: PermanentOffense.com
Kindest Regards,
Sid Maietto & Larry Jensen
— END —
Thanks everyone.
We love you all.
Larry, Tim, & Sid
P.S. Please donate to my legal defense fund today:
Mail-in donation: Tim Eyman Legal Defense Fund, 500 106th Ave NE #709, Bellevue, WA, 98004
Or donate online:
By PayPal
By Credit/Debit