At yesterday's hearing, Democrat Senator throws a hissy fit when I called him out — watch short video.
Tues, April 13, 2021
During the 2019 campaign for Initiative 976 in Everett, I debated Democrat Steve Hobbs.
At the start of the debate, I held up this sign and asked him this question: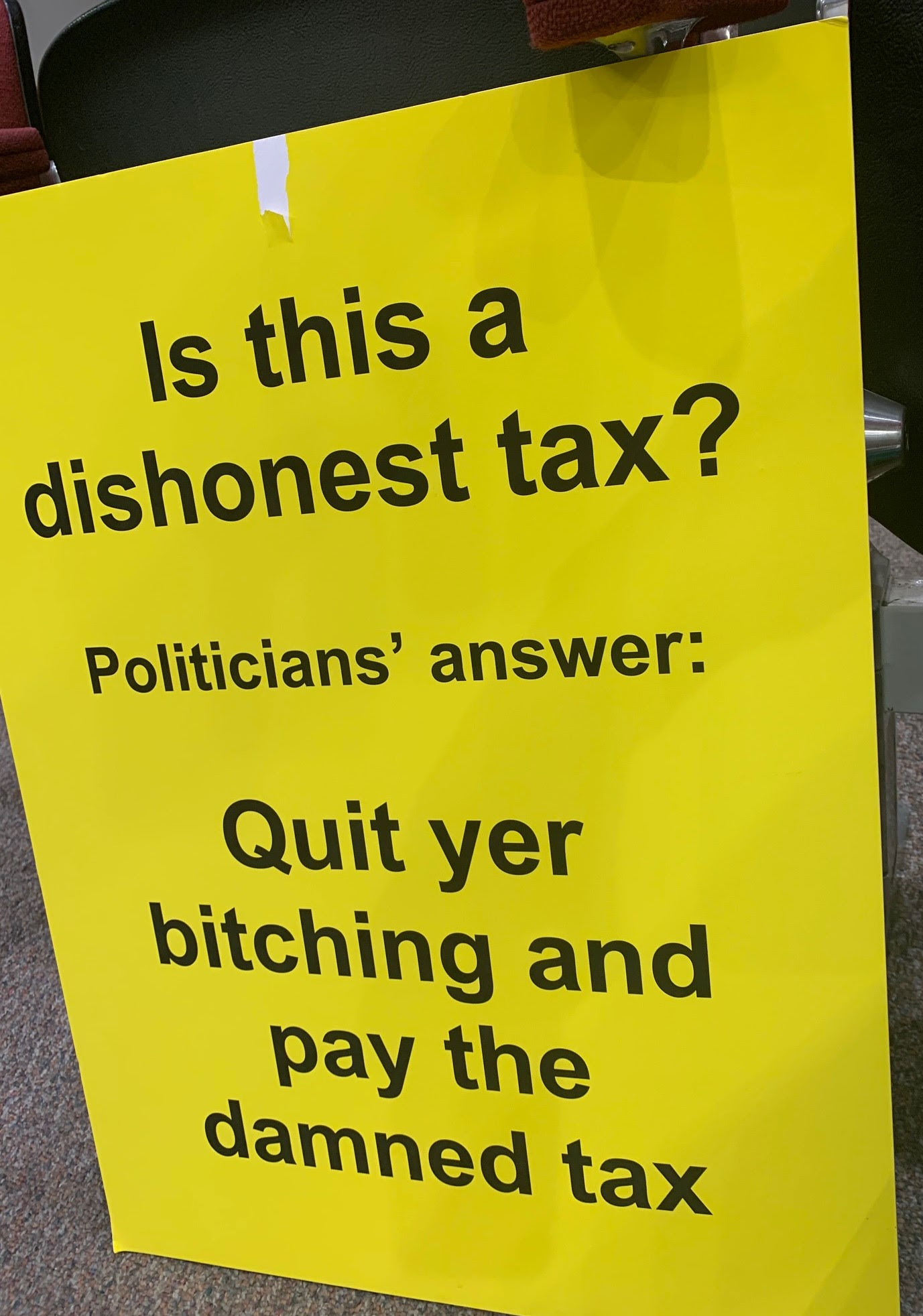 Throughout the debate, I asked him again and again.
He never answered.
Instead, his response was essentially: "Sure you're getting ripped off, but look at all the great things I'm doing with your money."
61.2% of voters in Steve Hobbs' legislative district rejected his pathetic argument.
At yesterday's hearing, I pointed that out to him.
He threw a hissy fit over it (click on the image): 

If that doesn't work, try this: https://youtu.be/2DqgBen9LeU
Politicians like Hobbs are accustomed to getting their butts kissed. That's especially true for him because he chairs the powerful Transportation committee meaning he's the guy feeding the pigs at the trough:
Hobbs could have insisted on $30 Tabs as a pre-condition for any transportation tax package.
He didn't.
He knows we're getting ripped off and he's doing nothing to change that.
Worse, he's pouring salt in the wound by keeping car tabs artificially inflated AND adding on 33 tax and fee increases on top of that.
My tabs expired 17 months ago and I refuse to renew until we get our $30 Tabs:
Is it any wonder AG Ferguson wants a lifetime ban on my future political activity?
I really need your help to fight back.
Literally thousands of you recognized his abuse of power and helped me and my family survive the last 8 1/2 years of investigation / litigation / persecution.
We're very grateful for that.
Now I ask you to please donate to my legal defense fund so we can get these ridiculous restrictions on free speech overturned: 
By: Paypal
By: Debit Card or Credit Card
Or mail a check: Tim Eyman Legal Defense Fund, 500 106th Ave NE #709, Bellevue, WA, 98004
In addition, we worked really hard on our $30 Tabs Initiative:
Karen and I sacrificed a lot — we sold off our retirement fund to kickstart its signature drive: 

And now, a message from Sid Maietto and Larry Jensen:
We're asking folks to donate to our PAC so Tim can get paid back. And your donations will also help stop Inslee's Income Tax and Carbon Tax Schemes with the initiatives we're co-sponsoring with Tim.
The taxpayers of Washington need our help now more than ever. Donate to our political committee so we can keep fighting for you:
By: Paypal
By: Debit Card or Credit Card
Or mail a check — made payable to "Permanent Offense" — to: Permanent Offense, PO Box 6151, Olympia, WA, 98507.
Kindest Regards, 
Sid Maietto & Larry Jensen
— END —
Thanks everyone.
I love you all.
Tim