My lawsuit challenging Inslee's abuse of power stops Inslee's costly Carbon Taxes. JOIN ME FOR COURT HEARING & JUDGE'S DECISION THIS FRI, 9AM, OLYMPIA
JOIN ME FOR COURT HEARING & JUDGE'S DECISION: Fri, Jan 14, 9:00am, Thurston County Courthouse, 2000 Lakeridge Dr SW, Bldg 2, Olympia.
Wed, Jan 12, 2022
In all of state history, we've never had a Governor who's such a perfect combination of stupid and arrogant.
There are legions of examples (700+ days of one-man government, blocking $30 tabs because voters were "confused," mask mandates, vax-or-get-fired mandates, closing schools, shutting down the economy, sending in unarmed national guard to Seattle riots, banning fishing & hunting, denying CHAZ/CHOP, telling landlords they can't evict non-paying tenants, repeatedly promising to veto tax increases but then raising taxes 38 times costing taxpayers over $58 billion).
My lawsuit challenges Jay Inslee for abusing the power of his office.
Two times at the ballot box in recent years, the voters have overwhelmingly rejected carbon taxes.
But last session, the Democrat-dominated Legislature passed two bills that imposed massive new carbon taxes:
1)  E2SSB 5126 imposes a corrupt Cap-and-Tax Scheme
2)  E3SHB 1091 imposes a costly Low Carbon Fuel Standard
But even the Democrats knew how insanely expensive these carbon taxes were going to cost the taxpayers and how destructive they'd be to our state's economy.
So the only way they could get some of the less insane Democrats to vote for the two bills, they had to include provisions that explicitly delayed the implementation of the carbon tax policies.
But Inslee didn't care what the Legislature wanted.
He ignored the Legislature's decision to delay these destructive policies by rewriting the bills (something he's not allowed to do).
He issued several partial vetoes of subsections, sentences, and even words so as to delete the delays required in the bills.
The Washington State Constitution forbids that (Art II, sec. 12).
He did the exact same thing in 2019: Inslee issued several partial vetoes and the lower court and state supreme court ruled his vetoes were illegal (that he had abused his power and exceeded his constitutional authority).
Now, with this case, the same Thurston County judge who ruled against him last time (Judge Carol Murphy) is the same judge who will be deciding Eyman v Inslee this Friday.
Judge Murphy will certainly be experiencing a great deal of cognitive dissonance on Friday:
First of all, judges hate non-lawyers in their courtrooms.
Pro se litigants like me aren't members of the "attorney fraternity" — they're total outsiders — judges abhor siding with non-lawyers over "real" lawyers.
And there will be numerous "real" lawyers from the Attorney General's office defending the Governor on Friday.
And prior to being appointed to the bench, Judge Murphy worked in the AG's office for 17 years.
And it's gonna be Bob Ferguson defending Jay Inslee.
It's gonna be Bob Ferguson defending the uber-liberal Department of Ecology.
It's gonna be lusting-to-be-governor Bob Ferguson defending his future right to abuse the power of the governor's office just like Jay Inslee has.
And Judge Murphy will likely remember that I co-sponsored the "Give Them Nothing" referendum two years ago that would've stopped pay raises for all the judges and justices on the court.
And then there's this: Judge Murphy's judicial colleague Judge Dixon recently rubber-stamped the AG's ruling that imposed a $5.5 million fine and a lifetime ban on my future political activity.
So on Friday, in her courtroom will be a conservative political activist — classified by politicians and their cheerleaders in the press as a scofflaw — arguing against Inslee's illegal actions.
The above will certainly be on her mind. 
And the fact is I could have filed an "affidavit of prejudice" and gotten Judge Murphy removed and had the case re-assigned to another judge.
But I decided to stick with her.
Why?
Because Inslee ignored her well-reasoned ruling against his previous vetoes.
He disregarded Judge Murphy's 2020 decision when he issued his illegal vetoes in 2021.
I just don't think she's going to be very happy with the Governor usurping her authority and disrespecting her decision (which was recently affirmed by the state supreme court).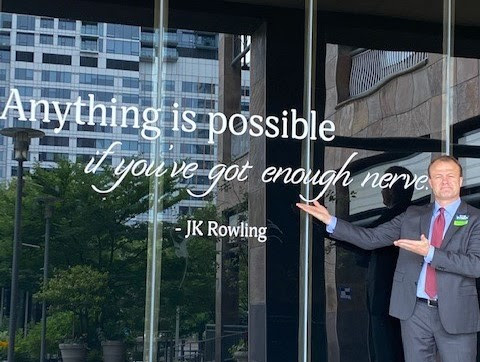 Here's the short brief I filed today (click on the image to read it):
If that doesn't work, click on this or this: https://permanentoffense.com/eymanrespondstoag/
Is it any wonder the AG is pushing for a lifetime ban on all my future political activity? 
I can't make any money doing my political activism.
I can't make any money with my lawsuit against Inslee for abusing his power.
I don't have the same rights as other Americans do anymore.
So I'm urging you — while I'm fighting to help our state and our nation with my initiative efforts and my lawsuit against Inslee — please help me fight back against Fascist Fergie by donating to my legal defense fund.
Please donate TODAY:
Mail your check to: Tim Eyman Legal Defense Fund, 500 106th Ave NE #709, Bellevue, WA, 98004
Or donate online:
By PayPal
By Credit/Debit
In addition, we worked really hard on our $30 Tabs Initiative:
We got I-976 qualified and passed.
Karen and I sacrificed a lot — we sold off our retirement fund to kickstart its signature drive: 
I'm still fighting to get us our $30 Tabs:
And now a message from Larry Jensen & Sid Maietto:
We're asking folks to donate to our PAC so we can keep fighting for taxpayers with initiatives sponsored by the three of us (Tim, Sid, & Larry).
The taxpayers of Washington need our help now more than ever. Donate to our political committee so we can keep fighting for you:
Mail your check — made payable to "Permanent Offense" — to: Permanent Offense, PO Box 6151, Olympia, WA, 98507
Or donate online: PermanentOffense.com
Kindest Regards, 
Sid Maietto & Larry Jensen
— END —
Thanks everyone.
We love you all.
Larry, Tim, & Sid