Even while in Michigan, I'm fighting for WA taxpayers (here's the latest on my lawsuit challenging 5 liberal initiatives that propose to increase income taxes EVEN HIGHER). Their lawyers screwed up and I rip them for that.
Wed, May 25, 2022
There are 5 liberal initiatives that propose to increase income taxes EVEN HIGHER (they all increase the Democrats' capital gains income tax).
When the Attorney General issued 5 super fluffy, favorable, biased ballot titles for these 5 liberal initiatives (because Bob Ferguson supports income taxes and the initiatives' backers are his allies), I filed 5 lawsuits challenging the AG's ballot titles because they were clearly biased in favor of the initiatives (the law requires the AG to write neutral descriptions — this AG has consistently defied that law: if he supports the initiative, then he describes it favorably, but if it's sponsored by a political adversary, he sabotages the ballot title).
Their deadline to turn in 400,000 signatures is July 8th. 
They can't print petitions and can't begin collecting signatures until the court resolves the issues I raised in my lawsuit. 
At Friday's hearing, here's how it looked on ZOOM:
At the time, I was standing in a Target parking lot collecting signatures for Michigan's Election Integrity Initiative (photo ID to vote, etc):
I made it clear to the judge I was out-of-state and unavailable until June 2nd and would have trouble writing briefs without access to my computer and previous filings. 
Nonetheless, I was given until yesterday to file my brief on this threshold question: should the initiative sponsor's brief be rejected because his attorneys didn't follow the rules? I say yes, it should be stricken. 
For additional background, check out Saturday's update: "It went badly for the liberals in court yesterday"
Considering I'm not an attorney — I am the pro se Petitioner in the case — I'm incredibly proud of this (click on this image to read it):
If that doesn't work, click here.
My favorite part: "As for the sponsor's counsel complaining about the lack of time to collect signatures, it is not the Court's fault that the initiatives' sponsor chose to file his initiatives so late in the cycle. It is not the Court's fault that the initiatives' sponsor and his very experienced attorneys didn't follow state law nor the local rules when they challenged these titles. As the saying goes: 'A lack of planning on your part does not constitute an emergency on my part.' "
Even while in Michigan, I'm fighting for WA taxpayers.

Is it any wonder Bob Ferguson wants to prohibit all my future political activity?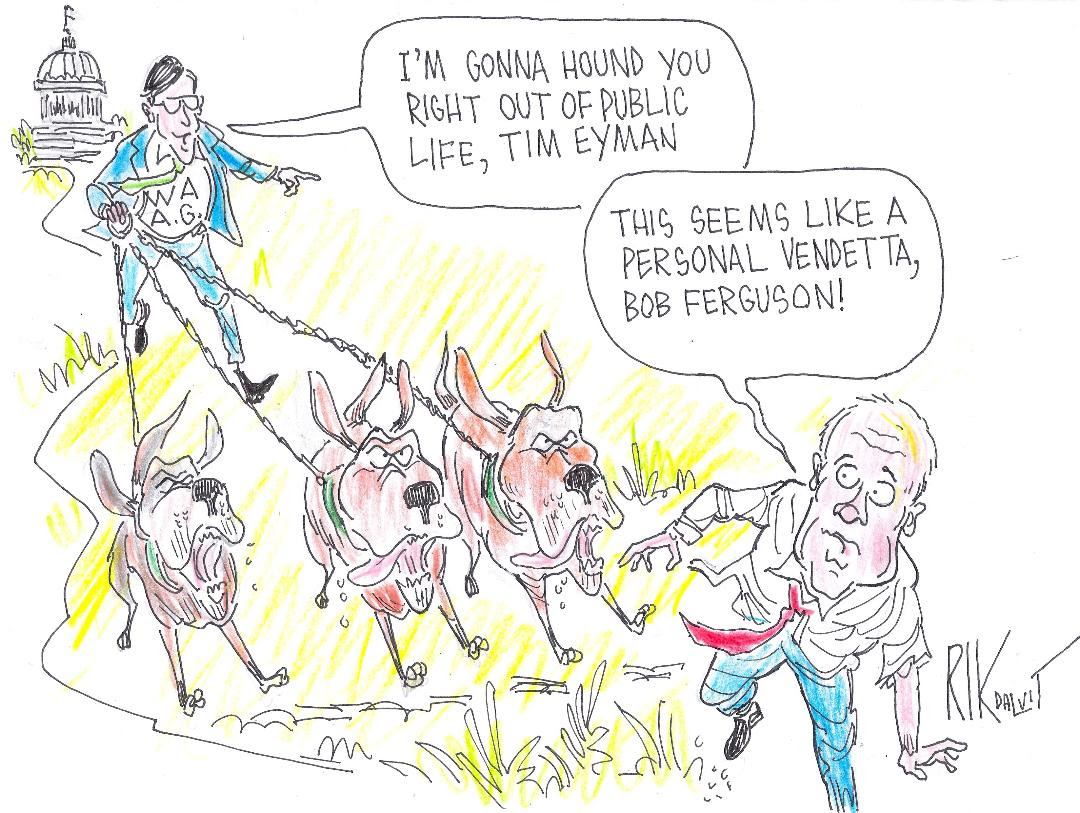 Please donate to my legal defense fund today:
Mail-in donation: Tim Eyman Legal Defense Fund, 500 106th Ave NE #709, Bellevue, WA, 98004
Or donate online:
By PayPal
By Credit/Debit

Appealing the AG's ridiculously unconstitutional restrictions on the First Amendment is absolutely critical. Because if he gets away with it with me, he'll just target someone else.
And I refuse to let that happen.
I'm only here is because of the love and support of folks like you who've watched this gross abuse of power by the AG and are willing to help me and my family get through this.
I love you all.
And now a message from Larry Jensen & Sid Maietto:
We're asking folks to donate to our PAC so we can keep fighting for taxpayers with attorney Joel Ard's initiative: STOP ALL INCOME TAXES. 
The taxpayers of Washington need our help now more than ever. Donate to our political committee so we can keep fighting for you:
Mail your check — made payable to "Permanent Offense I-1499" — to: Permanent Offense, PO Box 6151, Olympia, WA, 98507
Or donate online: PermanentOffense.com
Kindest Regards, 
Sid Maietto & Larry Jensen
— END —
Thanks everyone.
Larry, Tim, & Sid
P.S. Please — I urge you to donate to my legal defense fund today:
Mail-in donation: Tim Eyman Legal Defense Fund, 500 106th Ave NE #709, Bellevue, WA, 98004
Or donate online:
By PayPal
By Credit/Debit