EYMAN VERSUS FERGUSON – here is Richard Sanders' latest filing against the AG – he's asking for a Stay Pending Appeal – brilliant – help me pay for it
Fri, Aug 20, 2021
There are so many ridiculously unconstitutional restrictions on basic First Amendment rights in the AG's ruling.
Things I can't say, activism I can't do.
Fortunately, I have former state supreme court justice Richard Sanders and his colleagues defending me.
He filed a motion called a "Stay Pending Appeal."
What's it do? It asks that all these restrictions be put on hold — be stayed — until the higher courts decide whether or not these restrictions violate the First Amendment."
"This case involves the unprecedented finding by a Trial Court that one individual is a 'continuing political committee' … No other individual has ever been so labeled or so burdened. Moreover, the Trial Court ordered expansive and draconian prior restraint injunctive relief prohibiting Mr. Eyman from exercising fundamental First Amendment speech activities in the initiative process.
"A Stay of enforcement is warranted while this decision is under review because the Trial Court has staked out new and chilling legal territory, imposed resulting draconian and crippling monetary penalties, and infringed so deeply on Mr. Eyman and his friends' First Amendment constitutional rights."
Read the whole thing here (click on image to pull it up):
If that doesn't work, click here: https://permanentoffense.com/wp-content/uploads/2021/08/Stay-Pending-Appeal-In-Eyman-Versus-Ferguson-Case.pdf
It also says: "The burdens the injunctions impose on Mr. Eyman are immediate, obvious, and disturbing. The prohibitions and restrictions imposed on his political and personal activities are unprecedented and impossibly intrusive."
It's brilliant.
And it is costly. And I don't have enough to pay for all of it.
Every dollar I've ever earned in my lifetime is gone.
Every dollar I raised for the past 8 1/2 years to fight back against Fascist Fergie's attack on me and my family is gone.
I've put it all on the line to fight back against the AG's abuse of power.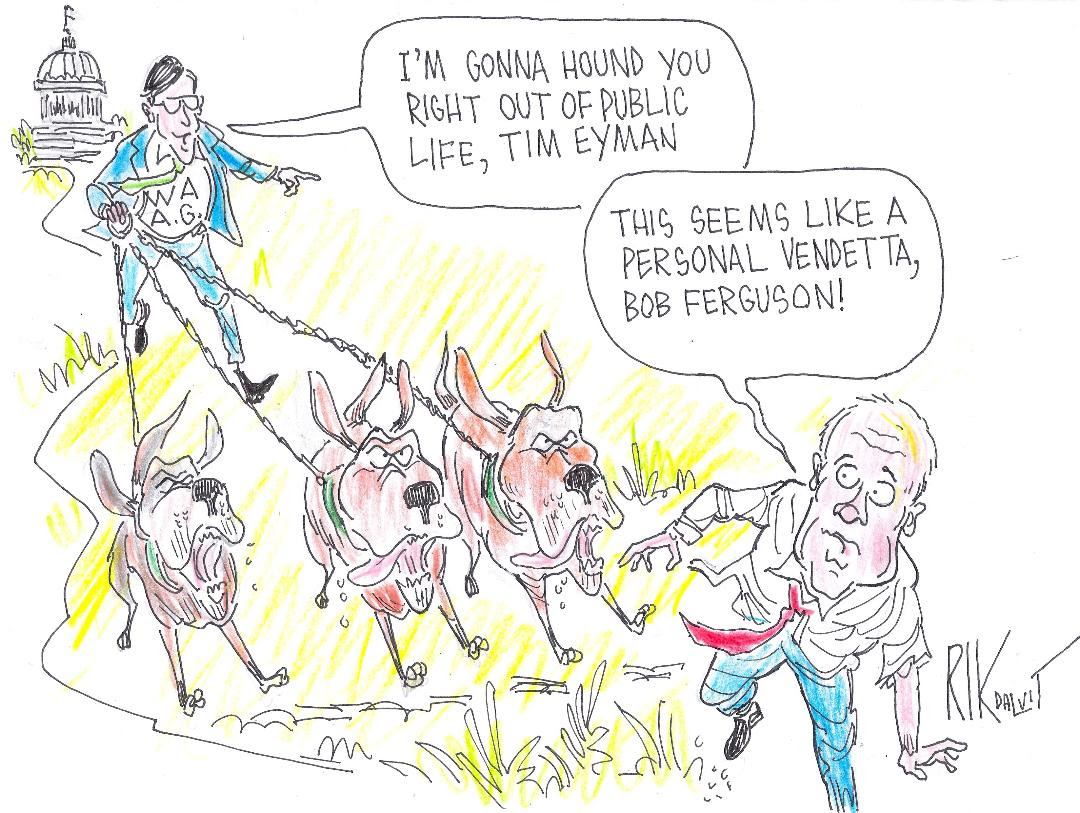 Bob Ferguson spent more going after me than all other cases over the past 8 years COMBINED!
And the only reason I'm still here and I'm still fighting is because of the prayers and support of thousands of wonderful people who were willing to help me and my family survive this blatant abuse of power by the AG.
I'm very grateful to all of you for that.
Only with your continued help can we reverse this gross injustice.
Please donate TODAY so I can pay for Richard Sanders' filing of the Stay Pending Appeal (without it, I'll have to live under these oppressive restrictions for years while this case is on appeal):
Mail your check to: Tim Eyman Legal Defense Fund, 500 106th Ave NE #709, Bellevue, WA, 98004
Or donate online: Paypal, Debit, or Credit Card.
Don't let the guy who robbed us of our $30 tabs get away with this:
As you know, we worked really hard on Initiative 976 — here's election night:
Karen and I sacrificed a lot — we sold off our retirement fund to kick-start its signature drive:

And now, a message from Sid Maietto and Larry Jensen:
We're asking folks to donate to our PAC so Tim can get paid back (and live and survive) and to help stop Inslee's Income Tax and Carbon Tax Schemes with the initiatives we're co-sponsoring with Tim.
The taxpayers of Washington need our help now more than ever. Donate to our political committee so we can keep fighting for you:
Mail your check — made payable to "Permanent Offense" — to: Permanent Offense, PO Box 6151, Olympia, WA, 98507
Or donate online: Paypal, Debit, or Credit Card.
Kindest Regards, 
Sid Maietto & Larry Jensen
— END —
Thanks everyone.
I love you all.
Tim