GREAT PICS: Sunday's Election Integrity Forum: massive turnout of patriots demanding 2020 audit of WA's election. Really impressive presentations.
When it comes to getting rid of Inslee's capital gains income tax by initiative, good news is coming — stay tuned — total commitment to getting that done.
In the meantime, I attended Sunday's Election Integrity Forum:
Now that I'm part of a team doing 7 voter integrity initiatives in 7 key swing states, I was there to listen and learn.
There was a massive turnout of patriots — I'm talking standing room only — the place was packed and there and there was a huge line stretching about a 1/4 of mile outside the church who couldn't get in:
Thanks to the sponsors, I got to sit in the front row to watch: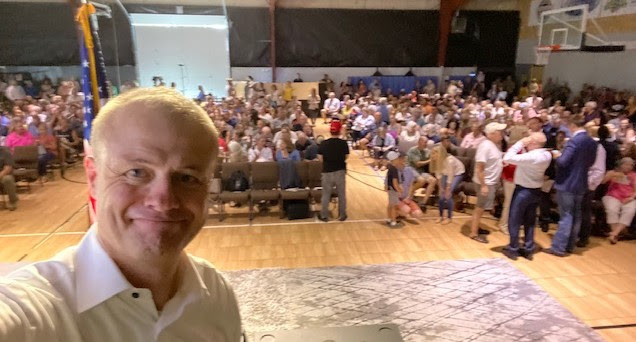 My good friend Rep. Robert Sutherland got a standing ovation:
Everyone had the chance to watch 2 great presentations — one by 2020 election analyst Seth Keshel (who flew in from Texas). His powerpoint presentation showing the numbers was riveting and had the crowd howling:
And the 2nd presentation was by WA state superstar activist Glen Morgan:
I'm working on getting a copy of the video of the entire event from the great people at Contract With Washington and I'll share it with you as soon as I get it (Bill & Lisa Allen are both amazing!).
I was very lucky see a lot of longtime friends and supporters:
And made lots of new friends too:
It was a great day.
There is very little faith in our election system right now and there are a lot of great people who are working really hard to fix that.
And we're not going to give people faith in future elections if there's so little confidence in the last one.
Rest assured, I am working each and every day as an initiative activist to make things better for our state and our nation.
Our 22 year track record of success and persistence is why Fascist Fergie targeted me, my family, and my friends and supporters.
And the only reason I'm still here and I'm still fighting is because of the prayers and support of thousands of wonderful people who've helped me and my family over the past 8 1/2 years survive the government's investigation, litigation, and persecution.
I'm very grateful to all of you for that.
Only with your help can I keep fighting these critical battles for our state and our nation.
Please donate TODAY so we can overturn the AG's ridiculously unconstitutional rulings:
Mail your check to: Tim Eyman Legal Defense Fund, 500 106th Ave NE #709, Bellevue, WA, 98004
Or donate online: Paypal, Debit, or Credit Card.
As you know, we worked really hard on our $30 Tabs Initiative:
Karen and I sacrificed a lot — we sold off our retirement fund to kick-start its signature drive:

And now, a message from Sid Maietto and Larry Jensen:
We're asking folks to donate to our PAC so Tim can get paid back (and live and survive) and to help stop Inslee's Income Tax and Carbon Tax Schemes with the initiatives we're co-sponsoring with Tim.
The taxpayers of Washington need our help now more than ever. Donate to our political committee so we can keep fighting for you:
Mail your check — made payable to "Permanent Offense" — to: Permanent Offense, PO Box 6151, Olympia, WA, 98507
Or donate online: Paypal, Debit, or Credit Card.
Kindest Regards, 
Sid Maietto & Larry Jensen
— END —
Thanks everyone.
I love you all.
Tim