Here's why Fascist Fergie is so obsessed w/ making Karen & the kids homeless.
Thursday, Dec 16, 2021
I met Karen the day she bought her house in Greenlake (Seattle).
In 1998, 5 years later, that house was sold and the equity from that sale was the down payment for the home in Mukilteo.
In my first initiative campaign on $30 Tabs in 1999, I held press conferences on the sidewalk in front of it.
Shortly after the initiative passed, opponents sent over a bunch of union goons to protest at our house and Karen and my son Jackson were forced to leave because it wasn't safe.
I sent out a fundraising letter — "They came to our home" — and it generated over $50,000 for the next initiative.
It was infuriating to them that our house ended up helping our initiatives.
Many times over the years, I took a great risk and borrowed from a home equity line of credit and loaned a lot of money to kick-start signature drives for our initiatives:
2008: Eyman loans $150K for his reduce traffic congestion initiative
2009: Eyman loans $250K for new property tax cutting initiative
2010: Eyman kickstarts 2/3-vote-for-taxes signature drive with loan
2015: Eyman's big loan to the 2/3-Vote-For-Taxes Constitutional Amendment Initiative
2016: Eyman loans $250K for Tougher to Raise Taxes Initiative
2018: Eyman risks $500K of his own money to fund car-tab initiative
During the trial earlier this year, my attorney Richard Sanders asked me: Why do you loan your own money to your initiative committees?
My response: The earlier you start a signature drive, the less expensive it is. And so by providing that early money it dramatically decreases the overall cost and so it really increases the chances it'll qualify for the ballot. It's insane, it's risky, but it really helps make the chances of succeeding much, much more likely. 
We've qualified 17 statewide initiatives for a public vote.
On average, we've spent $672,000 to qualify those.
Other campaigns spent nearly DOUBLE THAT — $1.2 million was the average for the 44 initiatives sponsored by others during those same 2 decades. 
Bob Ferguson is absolutely furious that time and time again, that house helped our initiatives qualify. 
For Fascist Fergie, making Karen and the kids homeless is just icing on the cake — the real reason he's desperately trying to take away our home is to stop me from using it for future initiatives.
Richard Sanders brought it up again at the trial: Doesn't sound like a winner.
My response: I guess you'd have to define "winner." When it comes to my own personal finances, it was awful. But I have no regrets for doing it because the voters ended up voting (on those initiatives) and it's something I've been working on for 22 years and I didn't want to look back on my life and not see it through. I have no regrets.
— END —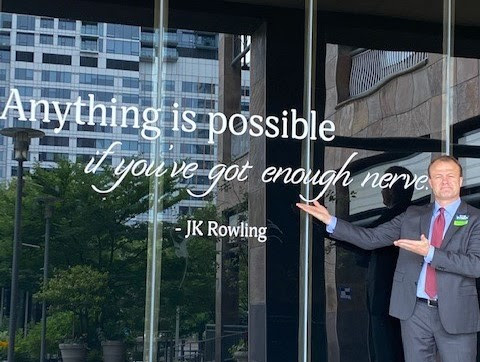 2008 is when I did it for the first time:
Eyman mortgages house to pay for initiative
CHRIS MCGANN, P-I CAPITOL CORRESPONDENT, Apr 30, 2008
After more than a decade of working on socially conservative and anti-tax initiatives, Eyman has been forced to mortgage his home for $250,000 to keep his latest effort going.
"I'm jumping off a big cliff — please help catch me," Eyman said in an e-mail solicitation to his supporters. "As you can imagine, this is scary stuff — but failure is simply not an option. This $250,000 loan will ensure I-985's success."
In past campaigns Eastside investor Michael Dunmire has been the primary financial backer for Eyman's campaigns. And already this year, he has contributed more than $200,000 to I-985.
But in a bulk e-mail sent to supporters this week, Eyman announced that Dunmire would not contribute additional funds.
"As you can see in our reports, Mike Dunmire has been contributing a lot but he recently e-mailed me — because of charitable donations and other business obligations, we can't count on anything more from him in the foreseeable future," Eyman wrote.
Asked if the move suggested a falling out of sorts with Eyman or the campaign, Dunmire said, "absolutely not."
"I have more admiration for Tim each day; how hard he works, how dedicated he is and I just think this shows his level of commitment to put his own butt on the line."
"I hope it comes across to people the passion that this man has for providing choices that he thinks make sense," Dunmire said. 
Eyman needs to collect roughly 250,000 valid signatures by July 3 to get the measure on the ballot.
Eyman said mortgaging his house was the simplest way to handle the issue.
"It's scary, there's no doubt about that," he said.
— END —

Me and Mike at 2009 dinner
2005 news story: Dunmire said in an interview: "He's the only one out there who does something. Everybody talks. Eyman gets things done. He produces results."
That's why Ferguson is so desperate to destroy me financially — he knows that I'll put everything I have on the line to score victories for the people.
And that's why I need your help now more than ever.
I'm urging you — while I'm fighting to help our state and our nation with my initiative efforts and my lawsuit against Inslee's abuse of power — please help me fight back against Fascist Fergie by donating to my legal defense fund.
Please donate TODAY so I can to appeal the AG's ridiculously unconstitutional restrictions on the First Amendment and make sure what he's doing to me never happens to anyone else ever again:
Mail your check to: Tim Eyman Legal Defense Fund, 500 106th Ave NE #709, Bellevue, WA, 98004
Or donate online:
By PayPal
By Credit/Debit
Don't let the guy who's profited more from politics than anyone get away with this:
As you know, we worked really hard on Initiative 976:
Karen and I sacrificed a lot — we sold off our retirement fund to kick-start its signature drive:

And now, a message from Sid Maietto and Larry Jensen:
We're asking folks to donate to our PAC so we can stop all current and future income-based taxes with Jim Walsh's Initiative 1408: 
The taxpayers of Washington need our help now more than ever. Donate to our political committee so we can keep fighting for you:
Mail your check — made payable to "Permanent Offense (I-1408)" — to: Permanent Offense (I-1408), PO Box 6151, Olympia, WA, 98507
Or donate online: PermanentOffense.com
Kindest Regards, 
Sid Maietto & Larry Jensen
— END —
Thanks everyone.
We love you all.
Larry, Tim, & Sid