I was invited to stay in Michigan 'til the end. What an honor! Even better: my daughter Riley was invited to join me! Even more warriors are coming.
Tues, May 24, 2022
The hard work of my amazing team on the Election Integrity Initiative (photo ID to vote, etc) in Michigan really impressed the campaign's organizers.
All of us were scheduled to come back on Sunday and I was scheduled to join them, but I was invited to stay in Michigan 'til the end (June 1st is the deadline to turn-in petitions/signatures).
They want me to train and help coordinate a bunch of professional circulators in the Saginaw area of Michigan.
What an honor!
My guess is the Elton John jacket and Wizard of Oz shoes were the deciding factor:
And as an added bonus, they invited my daughter Riley to join me and stay 'til the end too.
They knew about our political history together.
She was my assistant when I ran for Governor:
She was my partner on stage promoting Loren (she insisted on wearing that shirt at every rally!):
And we've always been a heckuva good team collecting signatures together:
It probably has something to do with her being with me on the campaign trail since she was born:
Over the phone, the main organizer of the Michigan campaign told Riley: "It's not just that I know that you'll work your butt off, but that you'll make sure your Dad works his butt off." 
On Sunday, my team of political warriors flew back to Seattle (I'll say more about these heroic people in a future update).
And talk about inspiring — I got this text Tuesday morning from one of them — Ethan Neff:
"I woke up this morning with a burning interest in returning to Michigan — I want to do even better and do everything I can to help make sure we qualify this critical initiative for the ballot."
I immediately sent a text to their campaign and they were so impressed with Ethan when he was there that they're paying for his flight, hotel, and rental car to come back.
Ethan is amazing — he has this fire in the belly, this amazing work ethic, I'm so glad that he's coming back.
I'm proud to be part of a great team of people who are working in 7 key swing states on 7 Election Integrity Initiatives — here's us in Georgia:
We want to make sure in future elections — especially 2024 — that valid votes count and invalid votes don't.
Is it any wonder Bob Ferguson wants to prohibit all my future political activity?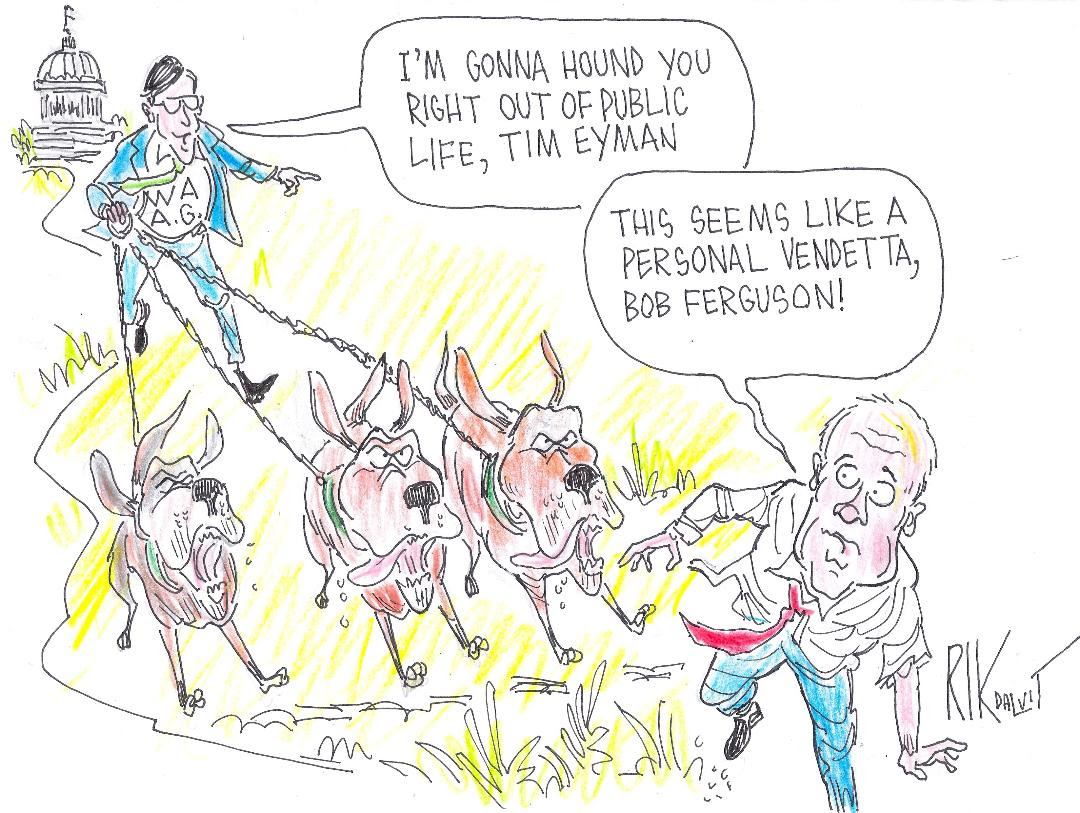 Please donate to my legal defense fund today:
Mail-in donation: Tim Eyman Legal Defense Fund, 500 106th Ave NE #709, Bellevue, WA, 98004
Or donate online:
By PayPal
By Credit/Debit
Appealing the AG's ridiculously unconstitutional restrictions on the First Amendment is absolutely critical. Because if he gets away with it with me, he'll just target someone else.
And I refuse to let that happen.
I'm only here is because of the love and support of folks like you who've watched this gross abuse of power by the AG and are willing to help me and my family get through this.
I love you all.
And now a message from Larry Jensen & Sid Maietto:
We're asking folks to donate to our PAC so we can keep fighting for taxpayers with attorney Joel Ard's initiative: STOP ALL INCOME TAXES. 
The taxpayers of Washington need our help now more than ever. Donate to our political committee so we can keep fighting for you:
Mail your check — made payable to "Permanent Offense I-1499" — to: Permanent Offense, PO Box 6151, Olympia, WA, 98507
Or donate online: PermanentOffense.com
Kindest Regards, 
Sid Maietto & Larry Jensen
— END —
Thanks everyone.
Larry, Tim, & Sid

P.S. Please — I urge you to donate to my legal defense fund today:
Mail-in donation: Tim Eyman Legal Defense Fund, 500 106th Ave NE #709, Bellevue, WA, 98004
Or donate online:
By PayPal
By Credit/Debit