I'm in court today fighting 5 initiatives making capital gains income tax EVEN HIGHER. Pray for me. I'm in Michigan but I'm still fighting for WA taxpayers.
PRAY FOR ME! At 9AM today, I have a court hearing in Thurston County fighting 5 initiatives that liberals want to push that make Inslee's capital gains income tax EVEN HIGHER! I will have to participate by ZOOM because I'm out-of-state in Michigan. But even though I'm 2374 miles away, I'm not gonna let that stop me from fighting for WA taxpayers!! I'll do my best in court today but these liberal initiatives show why we're promoting attorney Joel Ard's STOP ALL INCOME TAXES INITIATIVE.
His brilliant initiative shuts down the Democrats relentless push for income taxes ONCE AND FOR ALL. Prayers and positive vibes please.
Fri, May 20, 2022
It was cold and rainy on Wednesday in Michigan and yet we worked our butts off collecting signatures for this historic initiative.
But yesterday was warm and sunny and so we worked even harder (look close and you'll see that my face matches my shirt color):
Joe and Sid have been absolute rock stars — both are signature gathering machines — their work ethic has really inspired everyone.
And I let Jenifer use my Elton John jacket that my daughter Riley got me for Christmas (helps with signature gathering):
Jenifer is really amazing — she's doing awesome research finding us great locations and events to collect signatures at.
And I'm very proud of the great work Paul is doing here:
 We want to make sure that valid votes count and invalid votes don't.
Is it any wonder Bob Ferguson wants to prohibit all my future political activity?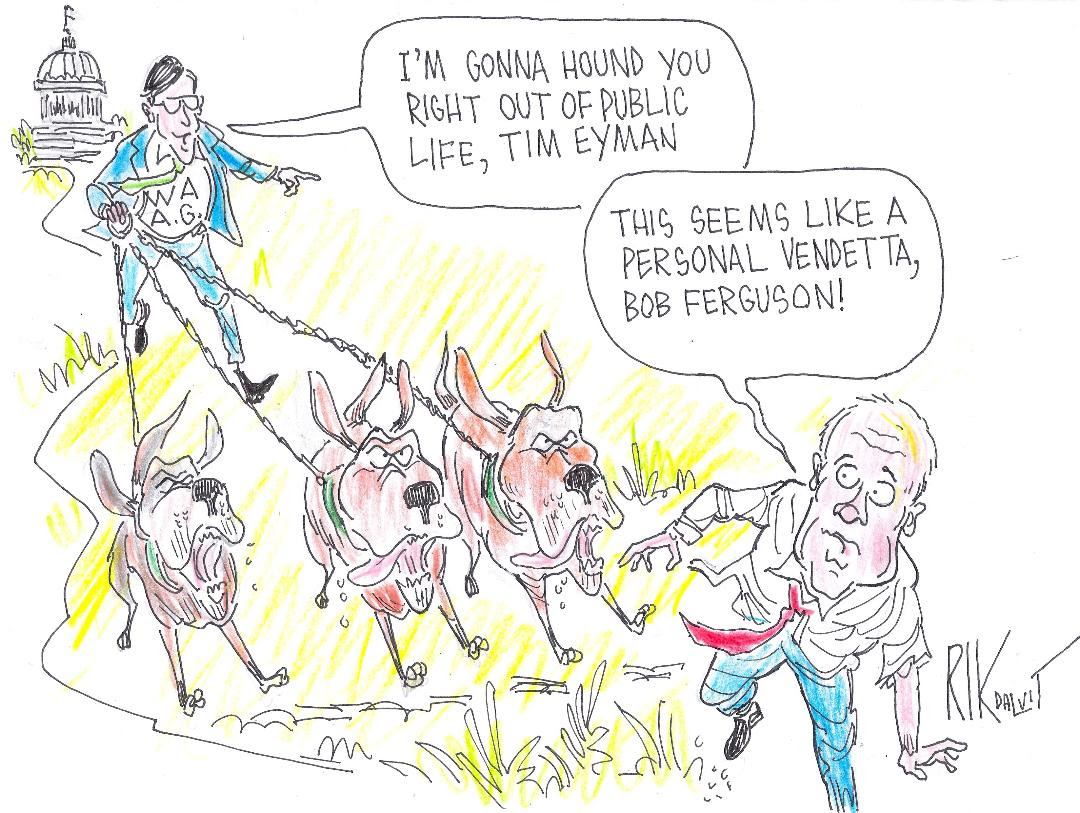 Please donate to my legal defense fund today:
Mail-in donation: Tim Eyman Legal Defense Fund, 500 106th Ave NE #709, Bellevue, WA, 98004
Or donate online:
By PayPal
By Credit/Debit
Appealing the AG's ridiculously unconstitutional restrictions on the First Amendment is absolutely critical. Because if he gets away with it with me, he'll just target someone else.
And I refuse to let that happen.
I'm only here is because of the love and support of folks like you who've watched this gross abuse of power by the AG and are willing to help me and my family get through this.
I love you all.
And now a message from Larry Jensen & Sid Maietto:
We're asking folks to donate to our PAC so we can keep fighting for taxpayers with initiatives sponsored by the three of us (Tim, Sid, & Larry).
The taxpayers of Washington need our help now more than ever. Donate to our political committee so we can keep fighting for you:
Mail your check — made payable to "Permanent Offense" — to: Permanent Offense, PO Box 6151, Olympia, WA, 98507
Or donate online: PermanentOffense.com
Kindest Regards, 
Sid Maietto & Larry Jensen
— END —
Thanks everyone.
Larry, Tim, & Sid
P.S. Please — I urge you to donate to my legal defense fund today:
Mail-in donation: Tim Eyman Legal Defense Fund, 500 106th Ave NE #709, Bellevue, WA, 98004
Or donate online:
By PayPal
By Credit/Debit