Join me for huge GRIT RALLY in Olympia tomorrow (Sat, March 5, 12-3pm). I'm one of the featured speakers (scheduled to talk on the Capitol steps around 12:30pm).
Also, here's my report on today's court hearing on my lawsuit against Inslee.
Fri, March 4th, 2022
Thanks to my good friends Erik Rohde & Matt Marshall, I'm honored to be one of the featured speakers at tomorrow's huge rally in Olympia (Sat, March 5, 12-3pm — I'm scheduled for 12:30pm).
It's called GRIT (Government Resistance Impedes Tyranny) and it's organized by MarchForOurRights.org.
I'm thrilled to be part of it.
I'm scheduled to talk for about 8 minutes starting around 12:30pm on the steps of the Capitol. Hope you can join me.
HERE'S MY REPORT ON TODAY'S COURT HEARING ON MY LAWSUIT AGAINST INSLEE FOR ABUSE OF POWER (EYMAN V INSLEE)
My lawsuit against Inslee stops the corrupt Cap-And-Tax Scheme and the Low Carbon Fuel Standard which are causing fuel costs to SKYROCKET! It also throws a monkey wrench into the Democrats' $16 billion transportation tax package because they are counting on Inslee's Cap-And-Tax Scheme to pay for a third of it ($5.2 billion).

I filed my lawsuit back in November, just a couple of days after the state supreme court ruled that Inslee had exceeded his authority when he partially vetoed some bills in 2019.

At today's hearing, our corrupt Attorney General (defending the Governor) begged the judge for more time to get ready.

I pointed out that Inslee's illegal actions were done NEARLY A YEAR AGO, that my lawsuit was filed in mid-November, with the case scheduled to be heard on April 15th meaning they'll have 5 MONTHS TO PREPARE.
The judge didn't budge — our April 15th hearing will go forward on Inslee's illegal vetoes of the Cap & Tax bill.
She told me to file a separate motion to legally challenge the Low Carbon Fuel Standard (I'll do that early next week) and it'll be heard separately. So no big deal.
I was pretty darn pleased that the judge really challenged the Governor to justify why he wanted a delay (this is the same judge who ruled against Inslee 2 years ago for different illegal vetoes).
I am so grateful that my very good friend and professional videographer Josh Winsor attended and recorded it all:
When he's done processing the video and has uploaded it to YouTube, I'll send out a link so you can watch it for yourself.
OVERALL, TODAY WAS A GREAT DAY!
Is it any wonder the Attorney General is working so hard to stop all my future political activity?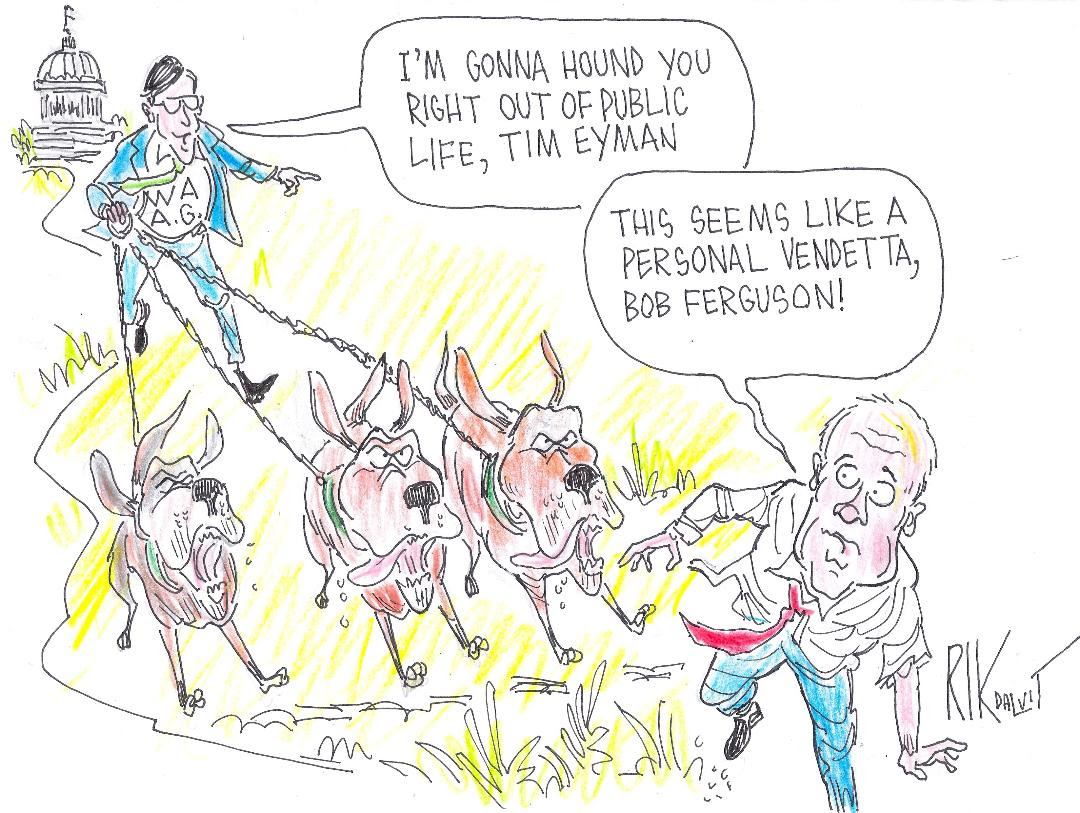 I'm doing everything I can in our state and our nation to restore our freedoms and liberties. 
In addition to my lawsuit challenging Inslee's abuse of power, I'm working really hard sponsoring and promoting initiatives in Washington state:

And I'm working with our team on 7 Election Integrity Initiatives in 7 key swing states to ensure that valid votes count and invalid votes don't:
I want to give you VALUE for the help you're providing to my legal defense fund.
I am appealing these ridiculously unconstitutional restrictions on the First Amendment to make sure what the AG is doing to me never happens to anyone else ever again.
Please donate to my legal defense fund here: 
Mail-in donation: Tim Eyman Legal Defense Fund, 500 106th Ave NE #709, Bellevue, WA, 98004
Or donate online:
By PayPal
By Credit/Debit
In addition, we worked really hard on our $30 Tabs Initiative:
Karen and I sacrificed a lot — we sold off our retirement fund to kickstart its signature drive: 

And now a message from Larry Jensen & Sid Maietto:
We're asking folks to donate to our PAC so we can keep fighting for taxpayers with initiatives sponsored by the three of us (Tim, Sid, & Larry).
The taxpayers of Washington need our help now more than ever. Donate to our political committee so we can keep fighting for you:
Mail your check — made payable to "Permanent Offense" — to: Permanent Offense, PO Box 6151, Olympia, WA, 98507
Or donate online: PermanentOffense.com
Kindest Regards, 
Sid Maietto & Larry Jensen
— END —
Thanks everyone.
We love you all.
Larry, Tim, & Sid
P.S. Please donate to my legal defense fund today:
Mail-in donation: Tim Eyman Legal Defense Fund, 500 106th Ave NE #709, Bellevue, WA, 98004
Or donate online:
By PayPal
By Credit/Debit