Join me & Sid & Larry at Sec of State's office in Olympia tomorrow @ 2pm for a MEGA ANNOUNCEMENT! Running for office or launching an initiative or…?
Before any great undertaking, you need a team. And I couldn't ask for a better start building that team than having Sid and Larry on my team.
Wed, May 11, 2022
Will you join me and Sid and Larry in Olympia tomorrow at 2pm for a MEGA ANNOUNCEMENT? I sure hope so.
Tomorrow, Thursday, May 12th, 2pm, Secretary of State's office, 520 Union Ave SE, Olympia.
Running for office or launching an initiative or…?
Come on down and find out.
I know you're gonna love it and want to be part of this historic effort.
We'll be doing it all on Facebook live (look for my personal FB page: Tim Eyman) so you can watch it real-time there tomorrow. And of course we'll record it and include it in Friday's update.
Join me tomorrow and let's make history together.
NEW TOPIC: When it comes to building my 25 person team of political warriors to go to Michigan next week to help their Election Integrity Initiative effort, I got back 15 commitments on the FIRST DAY!
That's amazing.
But I need 10 more. Be part of this. Do it yourself and/or help me find others.
Call or text me (cell: 509-991-5295) or email me (tim.eyman@gmail.com) if you will join me/us at SeaTac Airport next Tuesday (May 17) as we fly out together and spend the week together in Michigan. We fly back Sunday (May 22).
It will be an adventure — one that you'll remember forever. 
Every night in Michigan we'll have dinner together and talk about all things political, especially this critical effort to save the Presidential election in 2024 and beyond.
Your flight, hotel, and other expenses will be paid for. And you'll earn $7 for every valid signature you turn in.
While we're there, we're gonna be asking voters to sign petitions to qualify Michigan's voter integrity initiative for the ballot.
 
We want to make sure that valid votes count and invalid votes don't.
Here's why it's critical for us to step up and help: corruption has infected Michigan. Opponents of this popular initiative are so DESPERATE to prevent voters from signing petitions that they're actually paying professional petitioners to NOT collect signatures for THIS initiative.
But that sort of corruption is only pouring gasoline on the fire.
Because my 25-person crew of political warriors is going to Michigan to ONLY collect signatures for THIS initiative. 
You can certainly guess which t-shirt I'll be wearing in Michigan: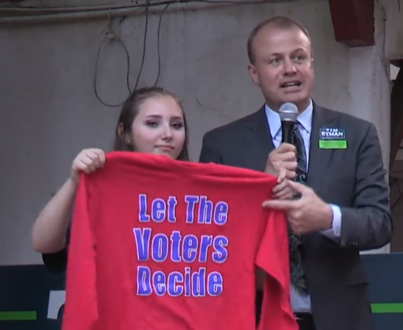 So whaddya say?
Isn't it worth a week of your time to save our country?
Call or text me (cell: 509-991-5295) or email me (hit reply or send email to: tim.eyman@gmail.com) if you're willing to join me on this extraordinary adventure.
Is it any wonder Bob Ferguson wants to prohibit all my future political activity?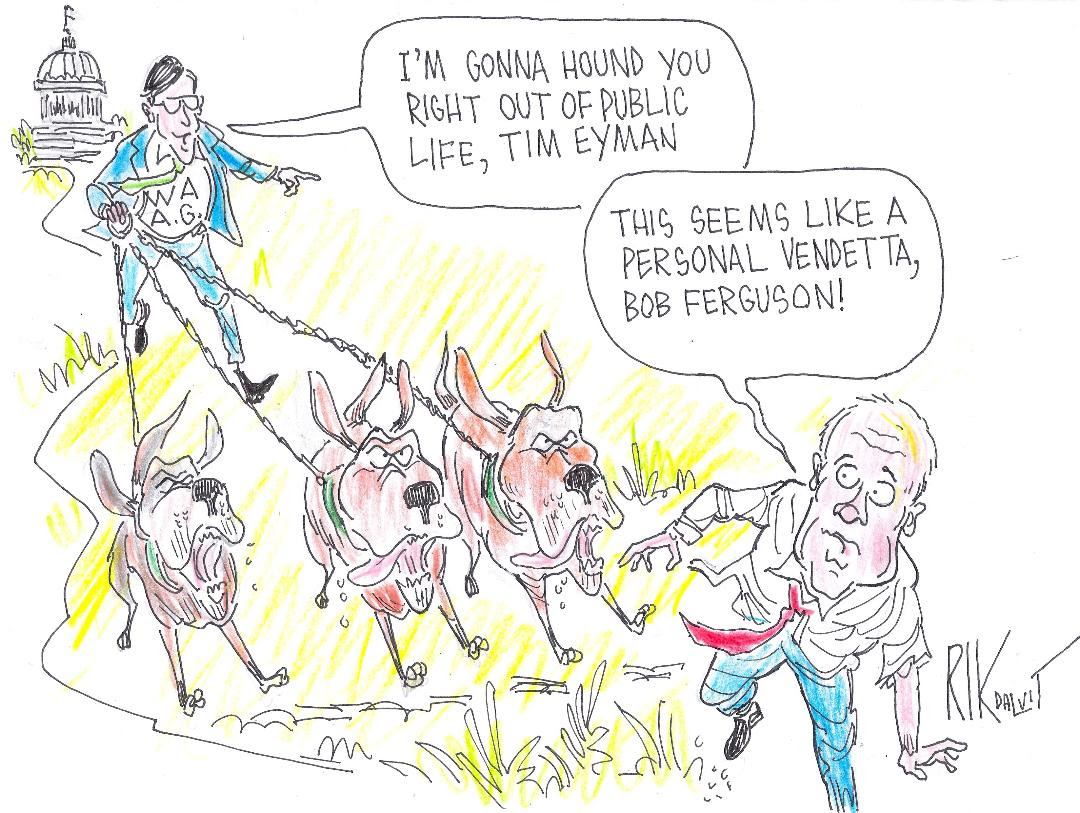 Please donate to my legal defense fund today:
Mail-in donation: Tim Eyman Legal Defense Fund, 500 106th Ave NE #709, Bellevue, WA, 98004
Or donate online:
By PayPal
By Credit/Debit
Appealing the AG's ridiculously unconstitutional restrictions on the First Amendment is absolutely critical. Because if he gets away with it with me, he'll just target someone else.
And I refuse to let that happen.
I'm only here is because of the love and support of folks like you who've watched this gross abuse of power by the AG and are willing to help me and my family get through this.

I love you all.
And now a message from Larry Jensen & Sid Maietto:
We're asking folks to donate to our PAC so we can keep fighting for taxpayers with initiatives sponsored by the three of us (Tim, Sid, & Larry).
The taxpayers of Washington need our help now more than ever. Donate to our political committee so we can keep fighting for you:
Mail your check — made payable to "Permanent Offense" — to: Permanent Offense, PO Box 6151, Olympia, WA, 98507
Or donate online: PermanentOffense.com
Kindest Regards, 
Sid Maietto & Larry Jensen
— END —
Thanks everyone.
Larry, Tim, & Sid

P.S. Please — I urge you to donate to my legal defense fund today:
Mail-in donation: Tim Eyman Legal Defense Fund, 500 106th Ave NE #709, Bellevue, WA, 98004
Or donate online:
By PayPal
By Credit/Debit