GREAT INTERVIEW: Listen to KIRO's Dori Monson ask me about Fascist Fergie's lawsuit and our recent success stopping the repeal of tax advisory votes.
Wed, March 17, 2021
I was born and raised in Yakima.
I was put up for adoption as a newborn there — it was done through Yakima's Holy Family Church. I was raised Catholic (when I was 17 at Young Life's Malibu Camp in Canada, I became a born again Christian).
When I was in my mid-20's, I searched for and found my birth parents.
My birth mother's last name is Murphy.
My birth father's last name is Milligan.
I'm all Irish.
A review of the book "Born Fighting" included this: they were "rebels and outcasts with unparalleled skills as frontiersmen and guerrilla fighters. Their cultural identity reflected acute individualism and dislike of aristocracy … they included pioneers Daniel Boone, Davy Crockett, and Sam Houston and great military leaders Stonewall Jackson, Ulysses S. Grant, and George S. Patton … they played a role in creating the populist movement … their culture of stubbornness and mistrust of the nation's elite still dominates … they are a powerful, patriotic, and individualistic cultural group."
Doing my best to live up to such a proud heritage.
Here is Dori's interview (click on image to listen to it):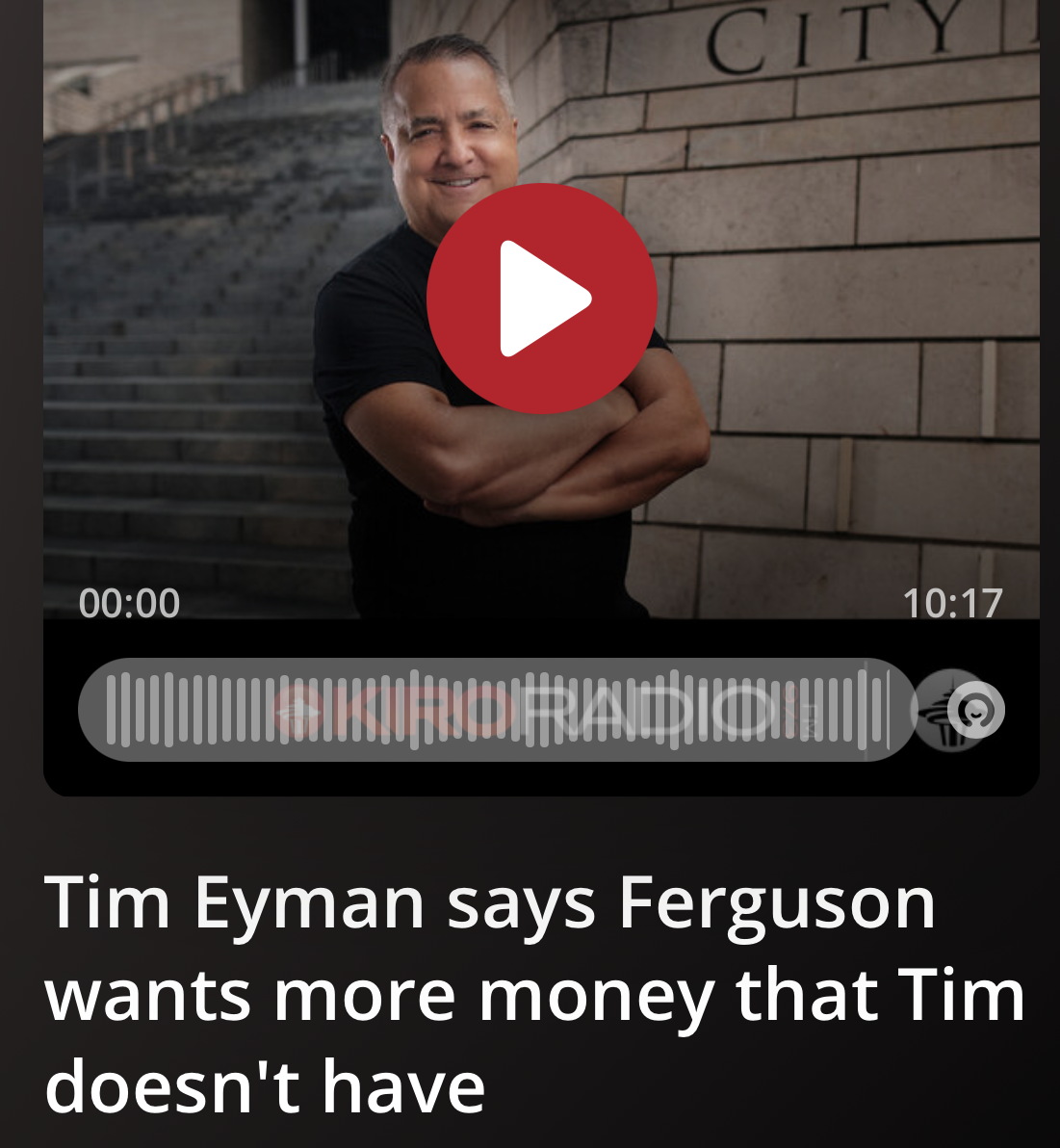 If that doesn't work, try this: https://omny.fm/shows/the-dori-monson-show/tim-eyman-says-ferguson-wants-more-money-that-tim
Let me know what you think — I always want your feedback.
I'm 100% committed to appealing this ridiculously unconstitutional decision because if they get away with it with me, you might be next. 
But we need your help to do it. 

Please donate to my legal defense fund here:
By Paypal
By Debit Card or Credit Card
Or mail a check: Tim Eyman Legal Defense Fund, 500 106th Ave NE #709, Bellevue, WA, 98004
In addition, we worked really hard on our $30 Tabs Initiative:
Karen and I sacrificed a lot — we sold off our retirement fund to kickstart its signature drive:

And now, a message from Sid Maietto and Larry Jensen: 
We're asking folks to donate to our PAC so Tim can get paid back. And your donations will also help stop Inslee's Income Tax and Carbon Tax Schemes with the initiatives we're co-sponsoring with Tim.
The taxpayers of Washington need our help now more than ever. Donate to our political committee so we can keep fighting for you:
By Paypal
By Debit Card or Credit Card
Or mail a check — made payable to "Permanent Offense" — to: Permanent Offense, PO Box 6151, Olympia, WA, 98507.
Kindest Regards, 
Sid Maietto & Larry Jensen
— END —
Thanks everyone.
I love you all.
Tim