My attorney Richard Sanders is a bulldog.  I'm so lucky to have such a fierce advocate in my corner. He keeps calling out Fascist Fergie's lies.
Thurs, Dec 23, 2021
In a recent filing with the state supreme court, my brilliant attorney Richard Sanders wrote: 
"It may be true that most members of the judiciary do not share Mr. Eyman's creed when it comes to limited government and taxation. However, the judicial canons as well as the Washington Law Against Discrimination make creed as irrelevant as race or sexual orientation. 
"Mr. Eyman is not to be disadvantaged in this court because he believes in limited government and reasonable taxation. So why emphasize this point? Because this whole proceeding is carried on as a personal vendetta against Mr. Eyman and his family by his political enemy, Robert Ferguson.
"This Court will be asked to review multiple instances of the Attorney General's dishonesty before the trial court and on appeal, as well as the trial court's acquiescence and affirmation of this as well. Every judicial figure having anything to do with this case must give Mr. Eyman the full measure of justice he deserves without reluctance or favor. This may mean the Attorney General's misconduct will be laid open to public knowledge, as well as the conduct of certain judicial figures. That General Ferguson is the most powerful lawyer in this state and a powerful political figure should be no disincentive to protect the rights of political dissident Eyman when they conflict with General Ferguson. If a member of the judiciary feels he or she cannot fulfill that role, the honorable and required course is recusal. To properly appreciate why honesty and courage is necessary in the proceeding, in particular, the context must be understood.
"This unprecedented action was launched against Mr. Eyman to destroy a political enemy.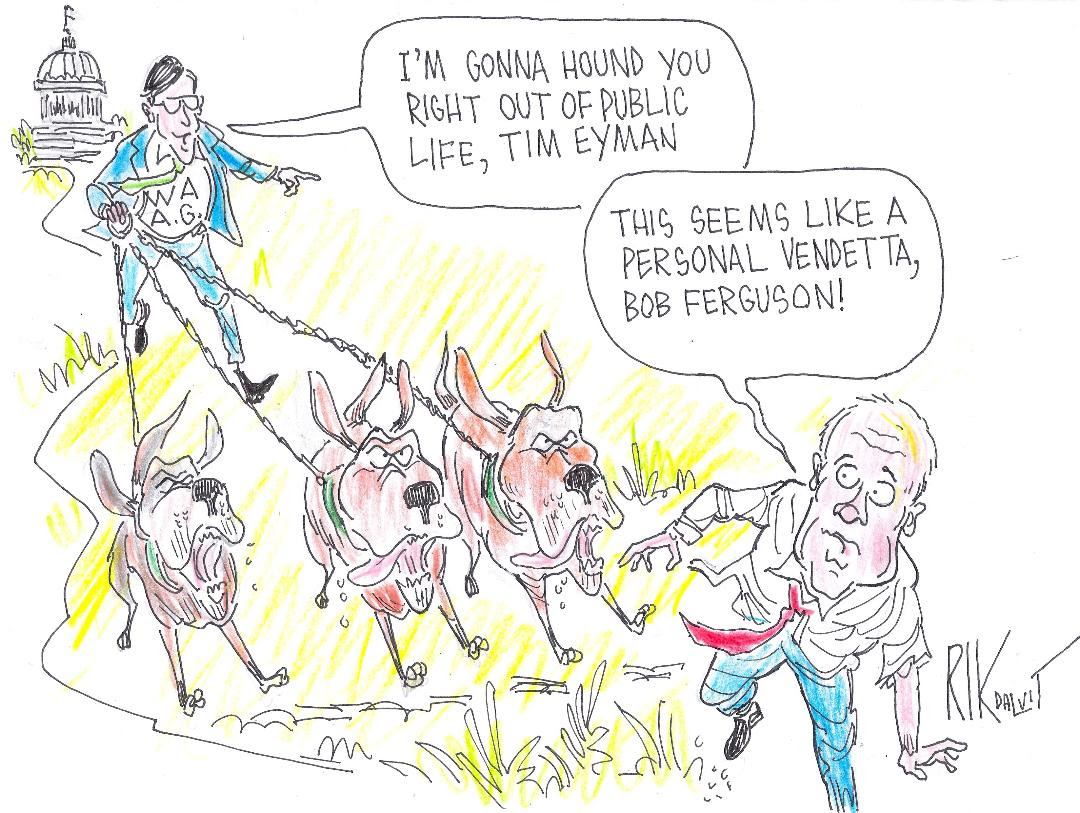 "How else does one explain the constant barrage of press releases from the Attorney General disparaging his opponent? Did any judge of this honorable court employ a press agent to disparage opposition litigants before joining the judiciary?"
Wow, just wow.
At every stage of the process, Richard has expertly exposed the fatal flaws in the AG's case (I never took anyone's money, everyone's assistance was voluntary, none of them were campaign contributions and so treasurer Stan Long made the correct decision not to include them on the campaign reports).
But where Richard has really excelled has been in highlighting the AG's lies.
For years, Democrat AG Bob Ferguson and his cheerleaders in the media have lied about me over and over and over again.
It's what they do to conservatives who are effective.
Working together, we've qualified 17 statewide initiatives.
Every one of them limited the governments' power over us.
For several of those campaigns, I used my own money to help our initiatives get on the ballot. For example, in 2010, I took out a 2nd mortgage on my house and loaned $250,000 to start up the signature drive for the initiative renewing the 2/3-vote-requirement-for-raising taxes.
This put my personal finances in great jeopardy, but those early infusions of money helped us get our initiatives qualified much less expensively.
How much less? Our 17 initiatives spent, on average, $672K to get on the ballot.
Other initiative campaigns spent $1.2 million on average.
That all-out commitment is the reason we've qualified so many initiatives for a vote.
And those 17 initiatives have saved taxpayers over $46.9 billion directly and billions more indirectly.
It was this remarkable track record of success that spurred the AG to spend nearly $3 million of taxpayers' money going after me and my family.
$3 million is more money than all other cases in the last 9 years COMBINED!
To survive this near decade-long ordeal, I asked friends and supporters to help me and my family survive the AG's jihad. Thousands of people responded to my plea for assistance because they opposed Ferguson's abuse of power.
Here's the biggest lie the AG made about me:
* that I "took" people's money.
Richard exposed that as a total lie:
"Contrary to the State's innuendo, the only money Mr. Eyman received over the past two decades was not taken or stolen from anyone. Thousands of people voluntarily chose to help Mr. Eyman and his family – there is nothing unlawful about that. People and businesses entered into voluntary business relationships with Mr. Eyman – all of them were legal. Mr. Eyman never took money from anyone – he wasn't a signer on anyone's bank account except his own. In every instance, the money he received came from people who chose to voluntarily give it to him. And he consulted with professionals – why wouldn't he? – to ensure he was following state and federal laws. For 8 years, Mr. Eyman has been put through the ringer. It's nothing short of a miracle he's still standing."
I'm asking everyone to help me appeal the AG's ridiculously unconstitutional restrictions so what he's doing to me and my family never happens to anyone else ever again.
Mail your check to: Tim Eyman Legal Defense Fund, 500 106th Ave NE #709, Bellevue, WA, 98004
Or donate online:
By PayPal
By Credit/Debit
And no matter what he throws at me, I'm not letting the AG slow me down — if anything, he's only inspired me to be more politically active than ever before.
I can't make any money doing my political activism.
I can't make any money with my lawsuit against Inslee.
I don't have the same rights as other Americans anymore.
So I'm urging you — while I'm fighting to help our state and our nation with my initiative efforts and my new-and-improved lawsuit against Inslee — please help me fight back against Fascist Fergie by donating to my legal defense fund.
Please donate TODAY:
Mail your check to: Tim Eyman Legal Defense Fund, 500 106th Ave NE #709, Bellevue, WA, 98004
Or donate online:
By PayPal
By Credit/Debit
Don't let the guy who's profited more from politics than anyone get away with this: 
And now a message from Larry Jensen & Sid Maietto:
We're asking folks to donate to our PAC so we can stop all current and future income-based taxes with Jim Walsh's Initiative 1408: 
The taxpayers of Washington need our help now more than ever. Donate to our political committee so we can keep fighting for you:
Mail your check — made payable to "Permanent Offense (I-1408)" — to: Permanent Offense (I-1408), PO Box 6151, Olympia, WA, 98507
Or donate online: PermanentOffense.com
Kindest Regards, 
Sid Maietto & Larry Jensen
— END —
Thanks everyone.
We love you all.
Larry, Tim, & Sid