My 3-day trip to Florida for Election Integrity Inititiatives shows Fascist Fergie's attacks backfired (I just got back late last night).
DON'T MISS TOMORROW'S UPDATE: it'll explain why AG is so desperate to take away our home.
Wed, Dec 15, 2021
I got back late last night from 3 days in Florida.
Here's what I posted on Facebook while I was over there:
Here's our team:
For 22 years, I've been laser-beam focused on helping Washington with our state, county, and city initiatives.
I was born in Washington.
I was raised in Washington.
I went to school in Washington.
My family and friends live in Washington. 
I love Washington.
During my 2 decades of political activism, I was never interested in working on initiatives in other states — I had many opportunities to do that, but I never did.
But last year when I was asked to join this team to work on these 7 Election Integrity Initiatives in 7 key swing states, I said yes.
Why?
Because it's exactly the opposite of what Fascist Fergie wanted.
SEATTLE TIMES, JULY 7, 2018: "What I know is that State Attorney General Bob Ferguson is trying to drive me out of politics, permanently," Eyman said. "So you know what my reaction to that is? It's to become as politically active as I have ever been in my life."
Fascist Fergie's attacks on me, my family, and my supporters has only thrown gasoline on the political fire that burns inside of me.
I'm more politically active now than I've ever been:
* My lawsuit against Inslee for abuse of power (it will stop the Low Carbon Fuel Standard and the Cap & Tax bill) is going to be amended to include additional violations.
* We're full steam ahead promoting Initiative 1408, Jim Walsh's No Income Tax Initiative. which explicitly repeals the capital gains tax the Democrats passed this year.
* Working together, we beat back a lot of bad bills during the legislative session (especially the bill that would have repealed Tax Advisory Votes — thanks to that success, we learned that 64% of voters oppose the capital gains tax, giving I-1408 a big boost).
* And of course the 7 Election Integrity Initiatives in 7 key swing states I'm working on, as well as helping and supporting leaders who are pushing for a forensic audit of the 2020 election in our state: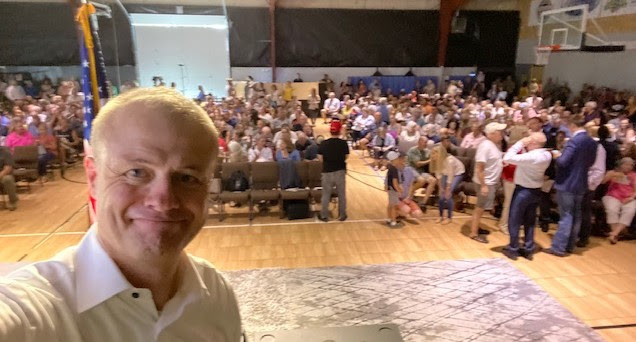 The AG spent $2.9 million of taxpayer dollars going after me — that's more money than all other cases in the last 9 years COMBINED!
He went all out so I'd quit, give up, walk away, capitulate.
But his attacks on me, my family, and our supporters have only backfired. 
His persecution — draining me of everything I've ever earned in my lifetime — has only inspired me to work even harder.
I'm urging you — while I'm fighting to help our state and our nation with my initiative efforts and my lawsuit — please help me fight back against Fascist Fergie by donating to my legal defense fund.
Please donate TODAY so I can to appeal the AG's ridiculously unconstitutional restrictions on the First Amendment and make sure what he's doing to me never happens to anyone else ever again:
Mail your check to: Tim Eyman Legal Defense Fund, 500 106th Ave NE #709, Bellevue, WA, 98004
Or donate online: TimDefense.com
Don't let the guy who's profited more from politics than anyone get away with this:
As you know, we worked really hard on Initiative 976:
Karen and I sacrificed a lot — we sold off our retirement fund to kick-start its signature drive:

And now, a message from Sid Maietto and Larry Jensen:
We're asking folks to donate to our PAC so we can stop all current and future income-based taxes with Jim Walsh's Initiative 1408: 
The taxpayers of Washington need our help now more than ever. Donate to our political committee so we can keep fighting for you:
Mail your check — made payable to "Permanent Offense (I-1408)" — to: Permanent Offense (I-1408), PO Box 6151, Olympia, WA, 98507
Or donate online: PermanentOffense.com
Kindest Regards, 
Sid Maietto & Larry Jensen
— END —
Thanks everyone.
We love you all.
Larry, Tim, & Sid