NEW RELEASE: Episode #4 of the "FREE TIM EYMAN" podcast series. AG asked for 35 restrictions on the First Amendment, judge rubberstamped all 35. Nuts!
Sat, Feb 12, 2022
National talk radio legend Jack Tomczak continues his "FREE TIM EYMAN" podcast series which "explores Washington State Attorney General Bob Ferguson's strange obsession with destroying Tim Eyman."  
Jack just released EPISODE #4 where we talk about the judge's ruling being a "financial death sentence." The judge "didn't consider the 35 restrictions requested by the AG and pick 30 and discard 5. He granted all 35. He rubberstamped everything the AG asked for."
To listen to EPISODE #4, click on this image:
If that doesn't work, click here.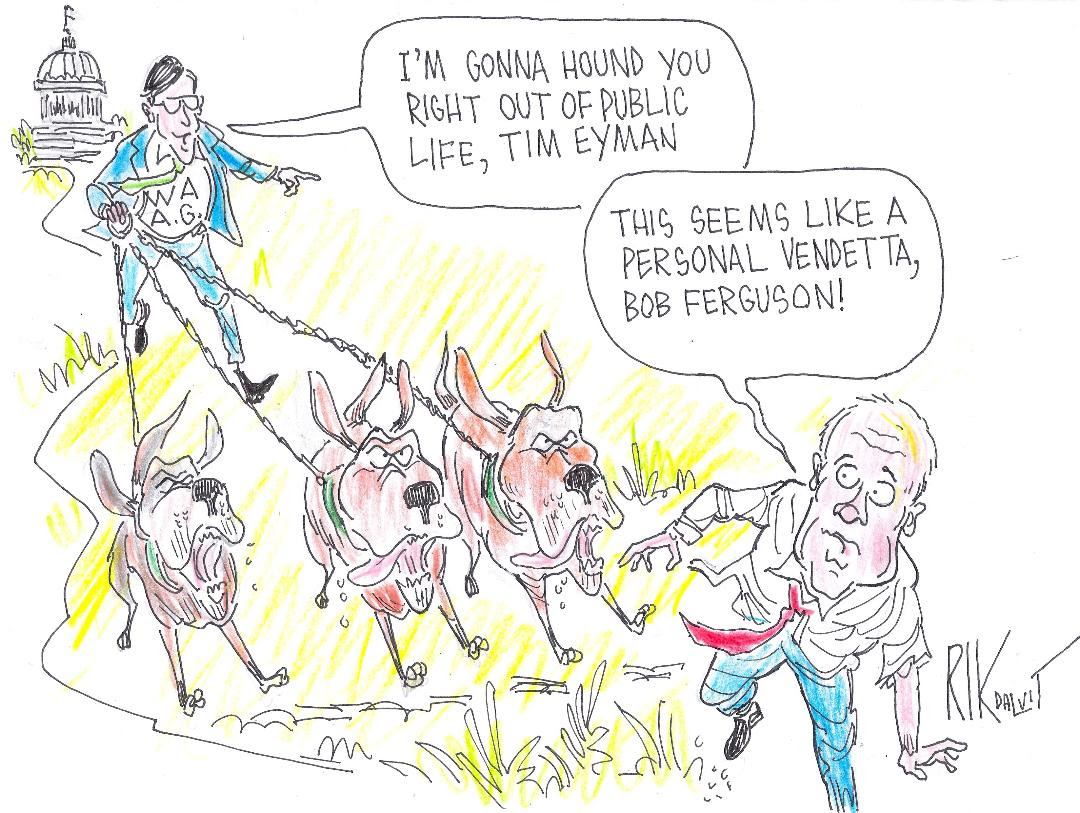 I am appealing these ridiculously unconstitutional restrictions on the First Amendment to make sure what the AG is doing to me never happens to anyone else ever again.

I'm only here is because of the love and support of thousands of great people who've seen this gross injustice and are willing to help.
Please donate to my legal defense fund here: 
Mail-in donation: Tim Eyman Legal Defense Fund, 500 106th Ave NE #709, Bellevue, WA, 98004
Or donate online:
By PayPal
By Credit/Debit
Don't let the guy who's profited more from politics than anyone get away with this.
And now a message from Larry Jensen & Sid Maietto:
We're asking folks to donate to our PAC so we can keep fighting for taxpayers with initiatives sponsored by the three of us (Tim, Sid, & Larry).
The taxpayers of Washington need our help now more than ever. Donate to our political committee so we can keep fighting for you:
Mail your check — made payable to "Permanent Offense" — to: Permanent Offense, PO Box 6151, Olympia, WA, 98507
Or donate online: PermanentOffense.com
Kindest Regards, 
Sid Maietto & Larry Jensen
— END —
Thanks everyone.
We love you all.
Larry, Tim, & Sid
P.S. Please donate to my legal defense fund today:
Mail-in donation: Tim Eyman Legal Defense Fund, 500 106th Ave NE #709, Bellevue, WA, 98004
Or donate online:
By PayPal
By Credit/Debit