NEW REPORT ON MICHIGAN'S PHOTO ID TO VOTE INITIATIVE: it was all-out war, but we won.
Thurs, Sept 22, 2022
I'm part of a team of heroic people who are working on 7 initiatives in 7 key swing states to ensure that in 2024 and beyond that valid votes count, but invalid votes don't.
Polls show 80% of voters support requiring ID to vote.
So passing a law requiring that oughta be easy, right?
WRONG!
In Michigan, the Republicans have the majority in the House and Senate and repeatedly passed bills requiring ID to vote.
But the Jay Inslee of Michigan — Gretchen Whitmer — is the state's Democrat Governor.
And she blocked them.
So an initiative was filed earlier this year: 
340,000 voter signatures were needed to qualify.
The original budget to collect those signatures was $2 million.
But knowing how much they benefit from the current election system and knowing how overwhelmingly popular the initiative was with voters, the Democrats and their allies absolutely freaked out, raising millions upon millions of dollars to try to block it.
It was an all-out war.
They stalked and assaulted petitioners, intimidated voters, blocked access to store fronts.
They even paid paid petitioners to NOT collect signatures for the initiative. There was some backlash to that. 
They even offered bounties for the names and addresses of petitioners who were helping us collect signatures!!
Their dirty tricks caused a massive escalation in the cost to qualify, not because voters didn't want to sign petitions but because fewer voters were being given the chance to.
Fortunately, the leader of our team recognized this mortal threat early on and worked his tail off to get Michigan's initiative over the finish line (that's Paul on the left).
He did everything he could — fundraising, direct mail — he went all-in.
He was the leader who gave the green light for me to bring in my team of political warriors to Michigan to help with the signature drive.
We found that voters were eager to sign: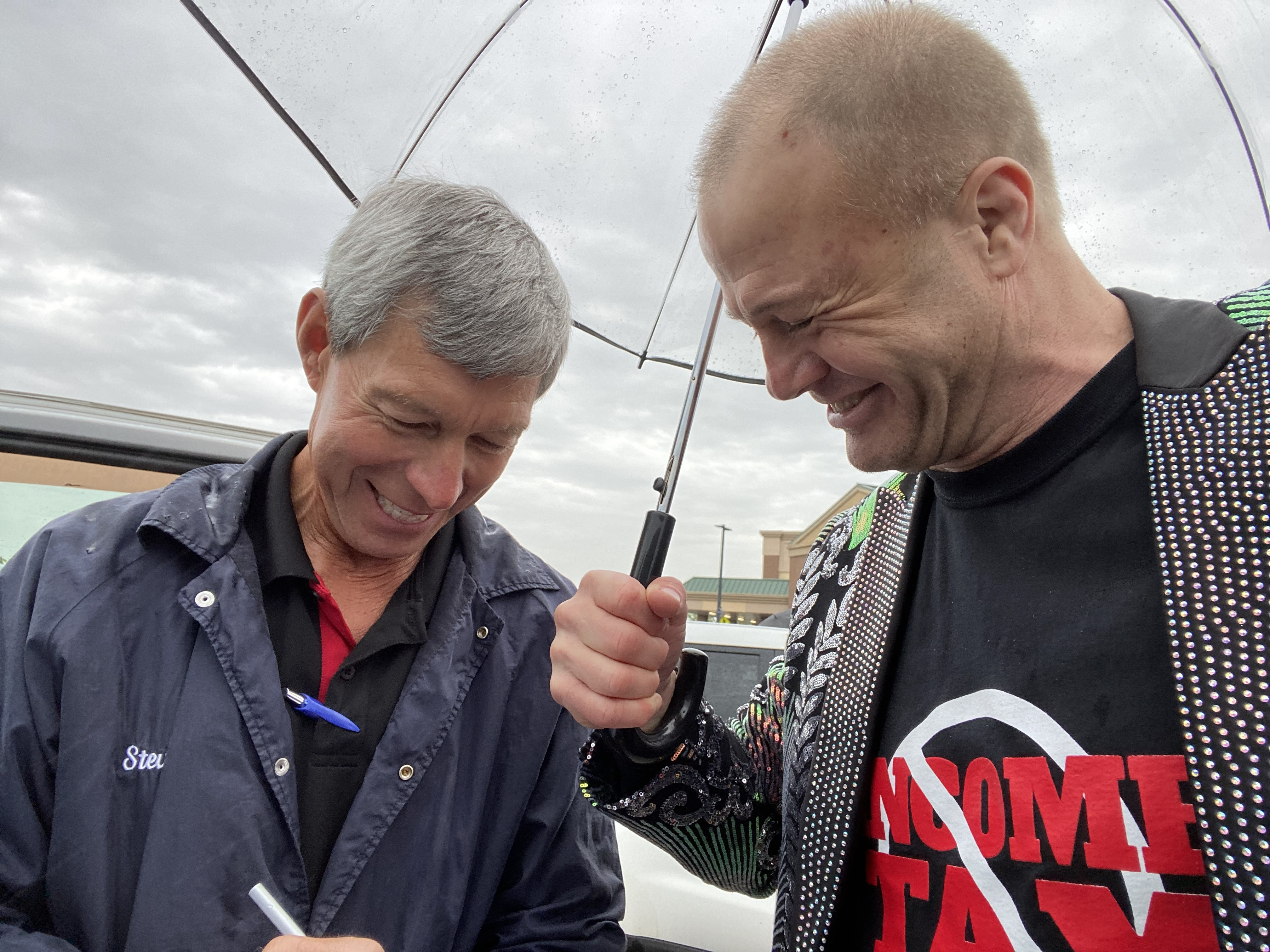 I'm very grateful to these amazing people for suspending their normal lives to trek to Michigan to help this worthy cause:
But the dirty tricks continued until the end.
It was an all-out war, but we won.
The original budget was $2 million but all the Democrats' dirty tricks escalated the budget dramatically — the overall cost ended up being $6 million.
But thanks to Paul's leadership and the great team that he's put together, this critical initiative overcame these unprecedented challenges.
The signature verification process has begun but with 514,000 voter signatures submitted (and those were verified by the campaign before they were turned in) and only 340K needed, it's clear the initiative will succeed.
I'm incredibly proud to be a member of a team that is working all over the nation to ensure that in future elections valid votes count but invalid votes don't.

Is it any wonder Bob Ferguson is trying so hard to impose a lifetime ban on all my future political activity?
Please, I'm urging you — while I'm fighting to help our state and our nation — to donate to my legal defense fund so we can make sure what he's doing to me and my family never happens to anyone else ever again.
Mail-in donation: Tim Eyman Legal Defense Fund, 500 106th Ave NE #709, Bellevue, WA, 98004
Or donate online:
By GiveSendGo (credit/debit card)
By PayPal
By PayPal (credit/debit card)
And now a message from Larry Jensen & Sid Maietto:
We're asking folks to donate to our PAC so we can keep fighting for taxpayers with Jim Walsh's initiative I-1491, the STOP ALL INCOME TAXES INITIATIVE. 
The taxpayers of Washington need our help now more than ever. Donate to our political committee so we can keep fighting for you:
Mail your check — made payable to "Permanent Offense I-1491" — to: Permanent Offense, PO Box 6151, Olympia, WA, 98507
Or donate online: PermanentOffense.com
Kindest Regards, 
Sid Maietto & Larry Jensen
— END —
Thanks everyone.
Larry, Tim, & Sid
P.S. Again, please donate to my legal defense fund today:
Mail-in donation: Tim Eyman Legal Defense Fund, 500 106th Ave NE #709, Bellevue, WA, 98004
Or donate online:
By GiveSendGo (credit/debit card)
By PayPal
By PayPal (credit/debit card)