The Waterville Win on cap gains tax helps a lot … but ONLY if there's an initiative to back it up.
Thurs, March 3, 2022
Yesterday I wrote this: "The lower court judge in Waterville Washington ruled that Inslee's capital gains tax is unconstitutional."
I then proceeded to crap on this accomplishment. 
I shouldn't have done that. 
Because that court victory — and all the time, effort, and money that went into achieving it — helps.
It helps a lot.
Because it provides the voters with another reason to qualify and pass an initiative that kills off this tax — and any tax like it — once and for all.
Because of the Freedom Foundation's lawsuit and the great people who supported it, Judge Huber illustrated that Inslee and the Democrats LIED to get this income tax passed. 
"The stinging rebuke issued today by Douglas County Judge Brian Huber reinforces the incontrovertible truth that income taxes, whether they are disguised as excise taxes or capital gains taxes — must treat all Washingtonians equally. Taxes cannot be imposed as punishment on the majority's political foes," said Eric Stahlfeld, Freedom Foundation Chief Legal Counsel. 
He's exactly right.
Also, the Opportunity for All Coalition's lawsuit and the great people who supported it did a phenomenal job spotlighting how often Bob Ferguson LIED in court defending the Democrats' income tax. 

This clear ruling that ESSB 5096 is an INCOME TAX helps.
Because voters HATE income taxes.
Voters have 10 times rejected income taxes at the ballot box.
The 10th time was 12 years ago when an amazing coalition of successful people ran an absolutely brilliant campaign against Bill Gates Sr's income tax initiative:
During that campaign, Democrats were honest and told voters the truth about their initiative: "We're asking you to pass I-1098 so we can establish a state income tax."
Voters listened to both sides and 65% said NO WAY!
Rather than accept the voters' decision, Democrats came up with a new strategy: LIE AND CALL IT SOMETHING ELSE.
That's what they did with ESSB 5096.
They LIED by calling their income tax an excise tax believing the name change would make a difference.
But guess what?
The voters last November rejected it anyway w/ one of our tax advisory votes:
This was BEFORE Judge Huber ruled it was an INCOME TAX.
So the voters are on our side.
But that vote was advisory — it didn't change the law.
And Judge Huber's ruling is advisory too — the final decision will be made by Inslee's judges on the state supreme court. 
And it's a near certainty that the Waterville Win will be ignored by at least 5 (if not all 9) of them: 
But voters won't ignore Judge Huber's decisive ruling — they're going to take it very seriously. 
Initiative promoters will be able to say that this income tax has already been rejected by a judge BUT WE NEED YOU TO SUPPORT THIS INITIATIVE IN CASE THE STATE SUPREME COURT RULES OTHERWISE.
Hoping Inslee's judges will do the right thing is way too risky.
Putting all our eggs in the litigation basket is way too risky.
We need to attack this on two fronts:
1) Continued litigation
2) A statewide initiative
This new tax being rejected by Judge Huber helps.
The voters rejecting this new tax with our tax advisory vote helps.
But those were scrimmages.
The Super Bowl is a statewide initiative that gives the voters the chance to kill off any kind of income tax, including ESSB 5096.
We can't count on Inslee's judges to go against Inslee and the Democrats' Holy Grail.
The only way we're going to kill off any kind of income tax, including this 7% capital gains tax, is by collecting 405,000 voter signatures by July 8th so voters can vote on this initiative in November.
Is it any wonder why the AG is pushing so hard for a lifetime ban on all my future political activity?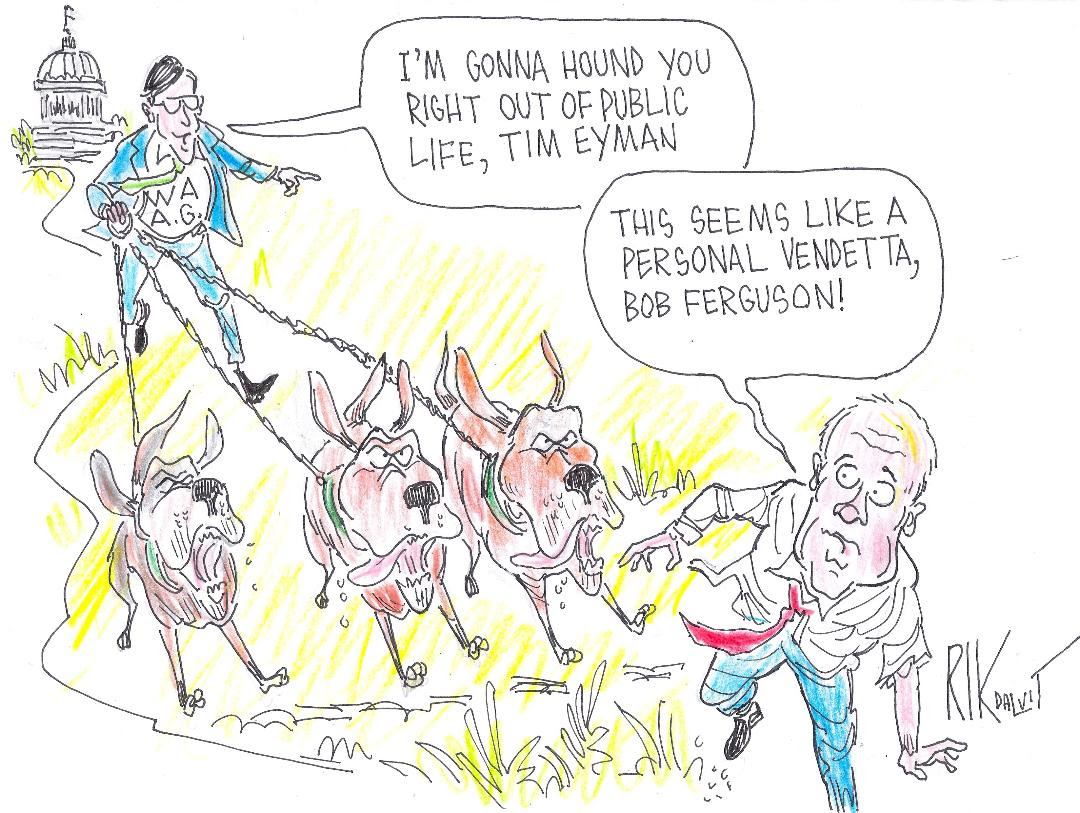 I'm only here is because of the love and support of great people like you who've been willing to help me fight back.
Please donate to my legal defense fund here: 
Mail-in donation: Tim Eyman Legal Defense Fund, 500 106th Ave NE #709, Bellevue, WA, 98004
Or donate online:
By PayPal
By Credit/Debit
And now a message from Larry Jensen & Sid Maietto:
We're asking folks to donate to our PAC so we can keep fighting for taxpayers with initiatives sponsored by the three of us (Tim, Sid, & Larry).
The taxpayers of Washington need our help now more than ever. Donate to our political committee so we can keep fighting for you:
Mail your check — made payable to "Permanent Offense" — to: Permanent Offense, PO Box 6151, Olympia, WA, 98507
Or donate online: PermanentOffense.com
Kindest Regards, 
Sid Maietto & Larry Jensen
— END —
Thanks everyone.
We love you all.
Larry, Tim, & Sid
P.S. Please donate to my legal defense fund today:
Mail-in donation: Tim Eyman Legal Defense Fund, 500 106th Ave NE #709, Bellevue, WA, 98004
Or donate online:
By PayPal
By Credit/Debit