Tim's updates still blocked — here is Tim's report on last week's victories in court. 5 different battles against the Attorney General.
Tim's updates still blocked — here is Tim's report on last week's victories in court. 
Tim is working really hard. Please help him by donating to his legal defense fund today. 
Dawn
Tues, April 19, 2022
Thank you for your prayers and moral support — it really helped me.
Last week, I had 5 different court battles against the Attorney General — 2 on Wed and 3 on Friday.
It was a whirlwind of a week. 
Tons of court filings over the past several months had to be written, filed, and served.
All of that work had to be done in order to have those 5 hearings.
I had to give oral arguments in 5 courtrooms before multiple judges.
I'm not an attorney — I received a bachelor's degree in business management from WSU — so taking on a bunch of trained lawyers working for the AG is a real challenge.
But my hourly rate is nothing — by handling these cases pro se (doing them myself) cost me nothing and cost the political committee nothing.
In every case, the Attorney General's office was either defending themselves or the Governor:
* DEFENDING THEMSELVES: the official description the AG wrote for initiatives eliminating the new capital gains income tax kept hidden the rate of the tax: 7%. As I wrote in one of my briefs: "On page 4 of their reply, the Attorney General protests using any of the 33 words in the Concise Description to notify voters of the rate of the tax: 7%. Hiding the rate – keeping it a secret – only serves to help supporters of the tax and thus creates bias against the initiative by keeping voters in the dark. The fact that the Attorney General is fighting so hard to keep that 7% rate hidden calls into question the impartiality of the Attorney General who clearly supports the tax and thus opposes any initiative that seeks to eliminate it. Fortunately, with judicial oversight, the omission of the 7% rate can be corrected.
VICTORY: The judge agreed with me and that 7% will be included in the official description for all initiatives eliminating that tax.
* DEFENDING THE GOVERNOR'S ABUSE OF POWER:
During the 2021 legislative session, Inslee abused his power by doing some illegal partial vetoes when he signed the corrupt Cap & Trade bill and the Costly Low Carbon Fuel Standard bill into law. He deleted individual words and sentences and subsections and when he did that, he violated the state Constitution.
So I sued the Governor for exceeding his constitutional authority.
After months and months of blindingly long delays and legal briefs, the hearing was last week. 
This session, the Democrat controlled Legislature acknowledged his wrongdoing by amending the bills during this year's session. So by the time we had last week's hearing, Inslee's violations got corrected.
Nonetheless, I count this as a victory because someone needed to challenge Inslee's wrongdoing and by doing so, it forced the Legislature to fix his screw-ups.
I've challenged Inslee before: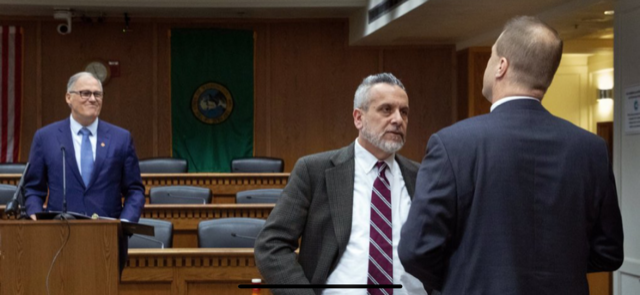 And I've gotten in the AG's face before:
WHAT DO ALL 5 COURT CHALLENGES HAVE IN COMMON? 
I was on offense, they were on defense.
That's what made every case a victory.
I will continue to fight for the taxpayers w/ initiatives in Washington and other states, w/ lawsuits, w/ lobbying legislators, and w/ helping elect more freedom-loving elected officials. 
Thank you for supporting me and being in my corner so I can continue to do what I was born to do.
I love you all.
Tim 
Please — I'm urging you — while I'm fighting to help our state and our nation with my initiative efforts and lawsuits and other efforts — to donate to my legal defense fund so we can overturn the AG's ridiculously unconstitutional restrictions on the First Amendment. 
We're continuing to fight back to make sure what the AG is doing to me and my family never happens to anyone else ever again.
Please donate TODAY:
Mail your check to: Tim Eyman Legal Defense Fund, 500 106th Ave NE #709, Bellevue, WA, 98004
Or donate online:
By PayPal
By Credit/Debit
As you know, we worked really hard on our $30 Tabs Initiative:
We got Initiative 976 qualified and passed.
Karen and I sacrificed a lot — we sold off our retirement fund to kickstart its signature drive:
Eyman risk $500K of his his own money to fund car-tab initiative — Thursday, May 10, 2018
I'm still fighting to get us our $30 Tabs:
And now a message from Larry Jensen & Sid Maietto:
We're asking folks to donate to our PAC so we can keep fighting for taxpayers with initiatives sponsored by the three of us (Tim, Sid, & Larry).
The taxpayers of Washington need our help now more than ever. Donate to our political committee so we can keep fighting for you:
Mail your check — made payable to "Permanent Offense" — to: Permanent Offense, PO Box 6151, Olympia, WA, 98507
Or donate online: PermanentOffense.com
Kindest Regards, 
Sid Maietto & Larry Jensen
— END —
Thanks everyone.
We love you all.
Larry, Tim, & Sid
P.S. Please, I implore you, donate to my legal defense fund TODAY:
Mail your check to: Tim Eyman Legal Defense Fund, 500 106th Ave NE #709, Bellevue, WA, 98004
Or donate online:
By PayPal
By Credit/Debit