VERY PROUD of my team of political warriors who trekked to Michigan with me. They're doing a great job collecting voter signatures for Michigan's Election Integrity Initiative (photo ID to vote, etc). Here's some additional pictures. Voters here want honest elections and are eager to let the voters decide.
Sun, May 22, 2022
Here's Ethan. 
He has killer work ethic, perfect attitude, and great sense of humor. He sent everyone this group text: "I just got a great compliment! White guy screamed 'racist' at me. Lol."
A really great guy.
What a wonderful team we have here in Michigan. I'm so proud of the work they're doing. Giving voters the chance to sign a petition to put this Election Integrity Initiative up for a vote is public service at its finest.
Here's Ben.
He's 6′ 8″ tall and so he found my Elton John jacket just a tad small. He owns a crab boat in Westport and was willing to take time off from his family to come here to help. I'm so grateful to have him here.  
There are countless others. 
|
I'm proud of all of them.
For about hour yesterday it was pouring down rain so I got signatures in a covered parking lot:
The people of Michigan have been incredibly kind and receptive to a bunch of total strangers approaching them to sign onto to this critically important initiative. "Oh, I've been wanting to sign that one" is a common refrain. 
We're working hard to let the voters decide: 
That's Joe. He's 78 years young and the unofficial captain of our team. He's been an inspiration to us all. 
We're heading out now for another great day of collecting voter signatures in Michigan.
We want to make sure that valid votes count and invalid votes don't.
Is it any wonder Bob Ferguson wants to prohibit all my future political activity?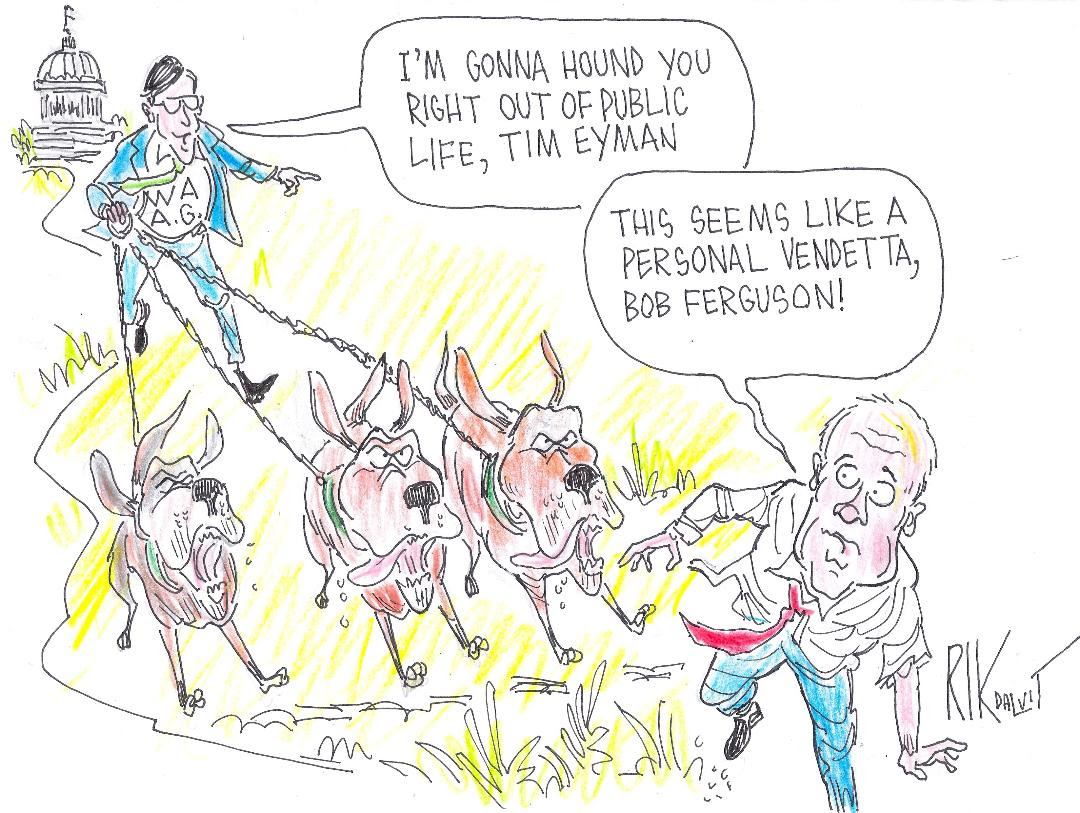 Please donate to my legal defense fund today:
Mail-in donation: Tim Eyman Legal Defense Fund, 500 106th Ave NE #709, Bellevue, WA, 98004
Or donate online:
By PayPal
By Credit/Debit
Appealing the AG's ridiculously unconstitutional restrictions on the First Amendment is absolutely critical. Because if he gets away with it with me, he'll just target someone else.

And I refuse to let that happen.
I'm only here is because of the love and support of folks like you who've watched this gross abuse of power by the AG and are willing to help me and my family get through this.
I love you all.
And now a message from Larry Jensen & Sid Maietto:
We're asking folks to donate to our PAC so we can keep fighting for taxpayers with initiatives sponsored by the three of us (Tim, Sid, & Larry).
The taxpayers of Washington need our help now more than ever. Donate to our political committee so we can keep fighting for you:
Mail your check — made payable to "Permanent Offense" — to: Permanent Offense, PO Box 6151, Olympia, WA, 98507
Or donate online: PermanentOffense.com
Kindest Regards, 
Sid Maietto & Larry Jensen
— END —
Thanks everyone.
Larry, Tim, & Sid

P.S. Please — I urge you to donate to my legal defense fund today:
Mail-in donation: Tim Eyman Legal Defense Fund, 500 106th Ave NE #709, Bellevue, WA, 98004
Or donate online:
By PayPal
By Credit/Debit