VICTORY: 500,000+ signatures turned in today to qualify Michigan's Election Integrity Initiative. So proud of my team of political warriors who flew out there to help. They played a very positive role in this huge success.
July 29, 2022
This is a huge victory.
Over 500,000 voter signatures are being turned in to Michigan's Secretary of State for our Election Integrity Initiative (photo ID to vote, must show last four digits of social for ballot to be processed, you gotta show you're you to vote).
I'm incredibly proud of my team of political warriors who flew out to Michigan to help this historic effort.
They all worked really hard to give Michigan voters the chance to sign petitions. And they really made a big difference.
Opponents were so desperate to stop this signature drive that they actually paid paid petitioners to NOT collect signatures for this initiative.
How sleazy is that?
That's how afraid they are of an honest election and honest vote.
How it that not voter suppression?
They tried to rob the voters of the opportunity to sign on to an election reform initiative that they supported.
They tried to take away the voters right to vote on the initiative by preventing it from getting voted on in the first place.
Pure sleaze.
But they failed.
Our Election Integrity Initiative in Michigan has qualified for a vote.
We believe in a simple principle:
Valid votes should count, invalid votes should not.
It was an amazing week in Michigan —  one day we had to deal with typhoon wind and rain: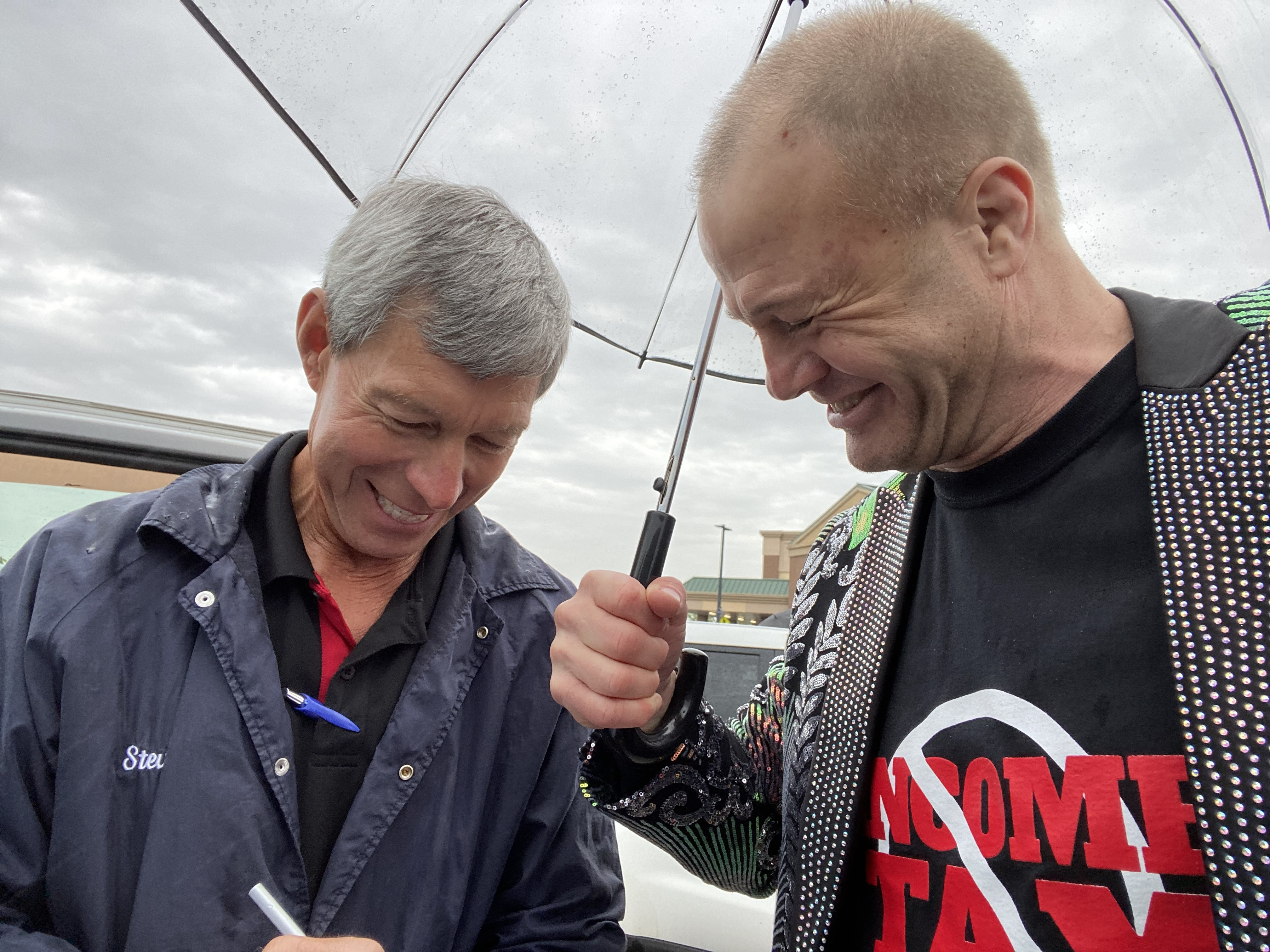 Another day it was a scorcher and I got sunburned: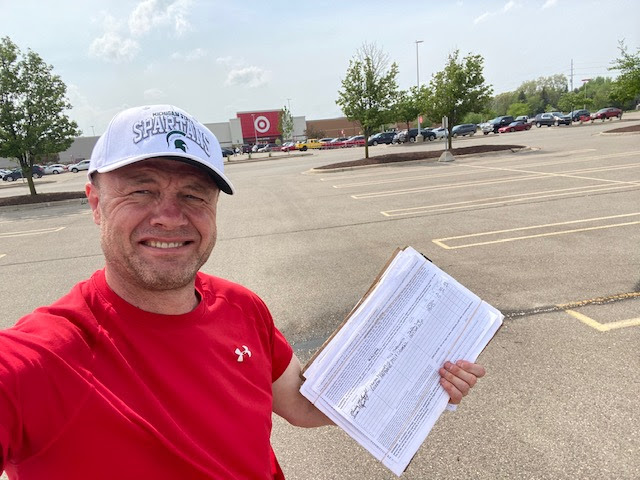 But through it all, my team kept going.
We had a fantastic group of heroes who gave up a week of their lives, teamed up with who were then strangers, and spent 10 hour days going up to total strangers asking them if they wanted to sign.
The Elton John jacket that my daughter Riley bought me was a big hit.
It worked for some:
But didn't work out for others:
I'm part of a team that is working on 7 Election Integrity Initiatives in 7 key swing states to make sure the Presidential vote in 2024 and beyond only has valid votes counted.
Here we are in Georgia.
Is it any wonder Bob Ferguson is so desperate to impose a lifetime ban on all my future political activity?
For all my efforts over the past 2+ decades, I ask you to donate to my legal defense fund to help overturn the AG's ridiculously unconstitutional ruling against me so this never happens to anyone else ever again:
Mail-in donation: Tim Eyman Legal Defense Fund, 500 106th Ave NE #709, Bellevue, WA, 98004
Or donate online:
By PayPal
By Credit/Debit
And now a message from Larry Jensen & Sid Maietto:
We're asking folks to donate to our PAC so we can keep fighting for taxpayers with Jim Walsh's initiative I-1491, the STOP ALL INCOME TAXES INITIATIVE. 
The taxpayers of Washington need our help now more than ever. Donate to our political committee so we can keep fighting for you:
Mail your check — made payable to "Permanent Offense I-1491" — to: Permanent Offense, PO Box 6151, Olympia, WA, 98507
Or donate online: PermanentOffense.com
Kindest Regards, 
Sid Maietto & Larry Jensen
— END —
Thanks everyone.
Larry, Tim, & Sid
P.S. Please — I urge you to donate to my legal defense fund today:
Mail-in donation: Tim Eyman Legal Defense Fund, 500 106th Ave NE #709, Bellevue, WA, 98004
Or donate online:
By PayPal
By Credit/Debit