Yesterday, I used my 22 years of experience to begin designing my first Election Integrity Initiative petition. Doing 7 of them in 7 key swing states.
Fri, Aug 27, 2021
After my weekly ZOOM call yesterday, I went to work designing my first non-Washington state initiative petition.
I've gone national with my initiative activism.
And it's on an incredibly important topic: Election Integrity.
I'm part of a national team doing 7 initiatives in 7 key swing states to make sure voters can have faith in future elections. We're talking about common sense changes: requiring photo ID to vote, allowing only US citizens to vote, guaranteeing audit-able elections (to make sure only valid votes were counted).
Designing my first petition for another state was just plain fun. I've done a ton of them over the last 2 decades and have developed a lot of experience that's coming in handy. And I have a great team who has always helped me.
This will be the first of many that I'll be helping with. Very exciting.
I'M FLYING TO THE EAST COAST IN MID-SEPTEMBER FOR MEETINGS AND PRESS CONFERENCES
What a thrill! I'm so proud to be part of these critical efforts. I'm working with amazing people who really know their stuff. They are experienced, talented, and committed.
My name won't be on any of these initiatives — I'm just a member of the team. So it'll be much more of a Wizard-of-Oz-behind-the-curtain-team type of thing. And I'm fine with that. I'm just happy to be playing a positive role in these important efforts.
Because of the AG's rulings and restrictions, I won't be allowed to be compensated for any of my work (it's insane!).
As I've done since filing for bankruptcy 2 1/2 years ago, all I'm asking for is for you to help me with my legal defense fund so I can keep fighting back against Fascist Fergie.
I'm 100% committed to appealing these ridiculously unconstitutional restrictions because like the caption says:
The only reason I'm still here and I'm still fighting is because of the prayers and support of thousands of wonderful people who were willing to help me and my family survive this blatant abuse of power by the AG.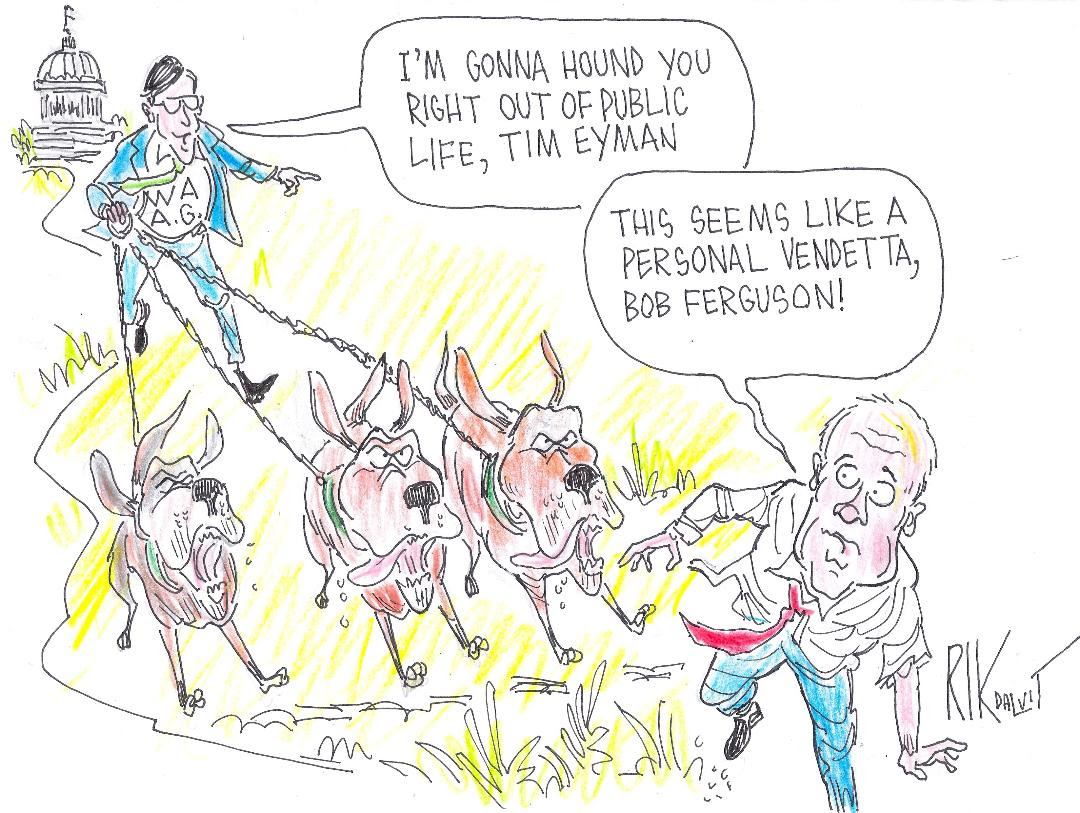 I'm very grateful to all of you for that.
Only with your continued help can we reverse this gross injustice.
Please donate TODAY so I can keep fighting for our state and our nation:
Mail your check to: Tim Eyman Legal Defense Fund, 500 106th Ave NE #709, Bellevue, WA, 98004
Or donate online.
Don't let the guy who've profited more from politics than anyone get away with this:
As you know, we worked really hard on Initiative 976 — here's election night:
Karen and I sacrificed a lot — we sold off our retirement fund to kick-start its signature drive:

And now, a message from Sid Maietto and Larry Jensen:
We're asking folks to donate to our PAC so Tim can get paid back (and live and survive) and to help stop Inslee's Income Tax and Carbon Tax Schemes with the initiatives we're co-sponsoring with Tim.
The taxpayers of Washington need our help now more than ever. Donate to our political committee so we can keep fighting for you:
Mail your check — made payable to "Permanent Offense" — to: Permanent Offense, PO Box 6151, Olympia, WA, 98507
Or donate online.
Kindest Regards, 
Sid Maietto & Larry Jensen
— END —
Thanks everyone.
I love you all.
Tim